'People Thrive Off Hate!' Khloe Kardashian Tweets Following Cancer Charity Scandal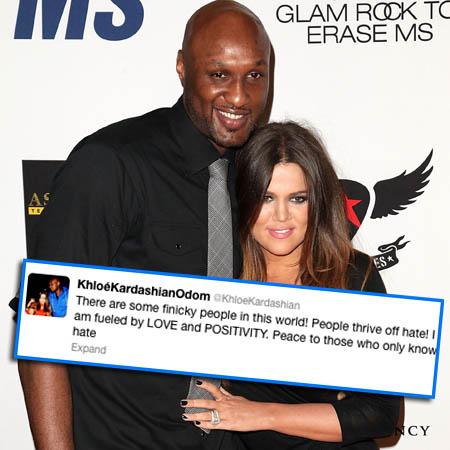 Khloe Kardashian, via her Twitter page and blog, swiftly responded to the cancer charity scandal involving her husband Lamar Odom's organization, Cathy's Kids, on Tuesday.
"There are some finicky people in this world!" the youngest of the three Kardashian sisters tweeted late Tuesday. "People thrive off hate! I am fueled by LOVE and POSITIVITY. Peace to those who only know hate."
Earlier in the day, Khloe -- responding to ESPN's bombshell reports that the high-profile couple could be running a questionable organization -- tweeted, "Count your blessings and not your troubles."
Article continues below advertisement
"It's my money," Lamar, a forward for the L.A. Clippers, said of the $2.2 million in donations to Cathy's Kids over the past nine years, when asked about the scandal. (At the heart of it is that none of the cash was forwarded to cancer-related causes.)
As RadarOnline.com previously reported, The couple, knee-deep in controversy Tuesday as the reports circulated, removed all items for sale on their joint eBay page, where they were auctioning off their own personal items to benefit the foundation.
Kardashian's camp also fired back in a statement that was later posted to Khloe's blog, claiming that Lamar was targeted in the scandal, and never used any of the money on himself or for any member of his family.
"It is unfortunate that Lamar Odom has been the target of an attack on athletes' charities, although he has personally contributed approximately $2.2 million to his foundation, Cathy's Kids, to fulfill its charitable purposes that include helping underprivileged inner-city youth.
"The millions of dollars personally contributed by Lamar constituted more than 90 percent of the money raised by the foundation. All of the funds donated by Lamar and the other contributions to Cathy's Kids were used for one of the foundation's intended charitable purposes. Not one penny went to help Lamar personally or any member of his family.
"No charitable funds were misused, and the IRS has repeatedly given Cathy's Kids a clean bill of health, confirming that there were no improprieties."