George Clooney's $220M Wedding Disaster — Prenup Feud, Guest List Flub & Planner Quit!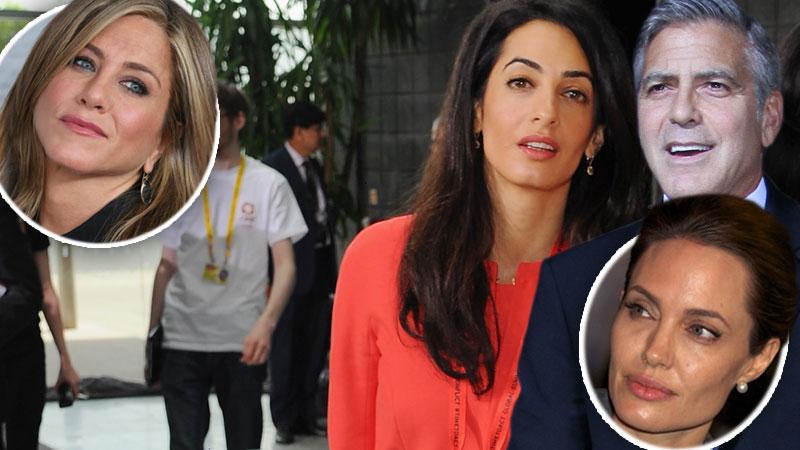 George Clooney's upcoming nuptials to fiancee Amal Alamuddin is turning out to be disastrous — a prenup the couple has been arguing over, worries about a guest list feud and their wedding planner quitting — and the couple might not even make it down the aisle!
A new report from The National ENQUIRER claims the Hollywood playboy has been negotiating and "fighting" with soon-to-be wife's legal team over a $220 million wedding contract.
Article continues below advertisement
"Clooney is worth an estimated $220 million. Given his shaky track record with women over the years, including a difficult divorce from his first wife and the brief longevity of most Hollywood marriages in general, I think he needs to make sure he has a prenuptial agreement that's ironclad," divorce attorney Raoul L. Felder told The ENQUIRER.
"He has a lot to worry about and a lot to lose if he doesn't proceed with the utmost care and caution. The fact that (his fiancee) is a lawyer is strike one against him. I expect his lawyers are being very careful and 'fighting' her lawyers over every point."
Indeed, Alamuddin's intellect and successful career was an attraction for Clooney, but now it may work against him.
Adding tension to the Lake Como ceremony is an old scandal surrounding one of Clooney's best buddies, Brad Pitt — his ex-wife Jennifer Aniston and current partner Angelina Jolie.
"At first she was on the fence about going," the source said of Jolie, "because she's not big on schmoozing at Hollywood get-togethers. But she quickly changed her mind after George told her that President Obama RSVP'd 'Yes'!"
Article continues below advertisement
Pitt was going with or without her, the source noted, and Aniston also remains confirmed on the guest list.
"George is extremely concerned that by inviting both these women, they'll undoubtedly try to upstage each other and in doing so take the spotlight off the bride," the insider told the magazine.
And the third strike? Their wedding planner quit because of location confusion causing complete disarray.
"Before switching locations, George told the planner he wanted a sponsor," the source said.
"Now it all seems disorganized."
To find out more about Clooney's upcoming wedding, pick up the latest issue of The National ENQUIRER.