George Clooney Slams 'Daily Mail' & 'New York Daily News' Over Report Fiancé's Mother Goes 'Into The Arena Of Inciting Violence'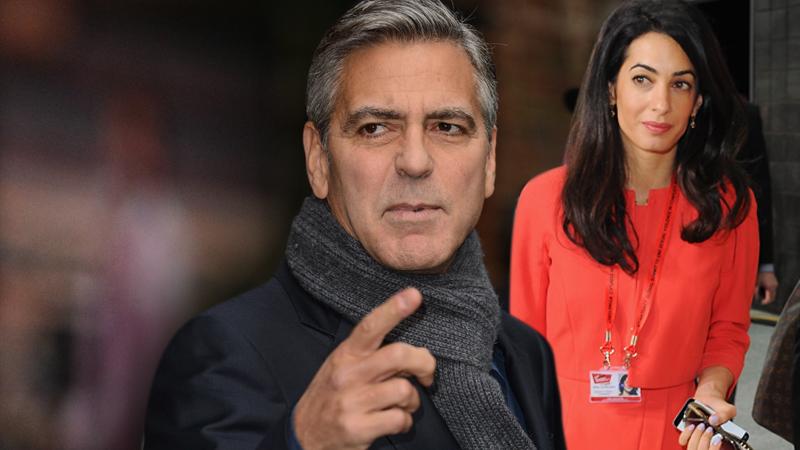 George Clooney complained in an open letter to USA Today about a Daily Mail report describing his soon-to-be mother-in-law's purported religious-based opposition to his pending marriage to her daughter Amal Alamuddin, prompting the paper to apologize for the report.
In the original Mail story, insiders said that Baria Alamuddin, mother of the A-lister's fiancé, was not in favor of the two marrying because she wanted the lawyer to wed someone of the Druze faith. The report went on to cited purported jokes in the Druze faith which reference traditions leading to a bride's death; and claimed that Amal could be "cast out of the community" if she wed the Ocean's Eleven star.
Article continues below advertisement
Not so, said Clooney, who blasted the item as "completely fabricated" and — due to it's religious undertones — "into the arena of inciting violence."
Clooney said that "none of the story is factually true," as "Amal's mother is not Druze … and she is in no way against the marriage."
The star went on to say that while he's "used to the Daily Mail making up stories … the irresponsibility, in this day and age, to exploit religious differences where none exist, is at the very least negligent and more appropriately dangerous.
"We have family members all over the world, and the idea that someone would inflame any part of that world for the sole reason of selling papers should be criminal."
He added, "I'm the son of a newsman; I accept the idea that freedom of speech can be an inconvenience to my private life from time to time, but this story, like so many others, is picked up by hundreds of other outlets citing the Daily Mail as their source, including Boston.com, New York Daily News, Gulf News, Emirates 24/7 and so on."
Article continues below advertisement
The outlet, in response, said that the news item was "supplied in good faith by a reputable and trusted freelance journalist;" and that they, having taken Clooney's word to be the truth, subsequently removed the article from their site.
"We accept Mr. Clooney's assurance that the story is inaccurate and we apologize to him, Miss Amal Alamuddin and her mother, Baria, for any distress caused," the Mail said in a statement, adding that it "will be contacting Mr. Clooney's representatives to discuss giving him the opportunity to set the record straight."