Exclusive
Flawless! George Clooney's Wife-To-Be Amal Alamuddin Flaunts $500,000 Engagement Ring — With 'Ethically Mined,' Super-Pure Rock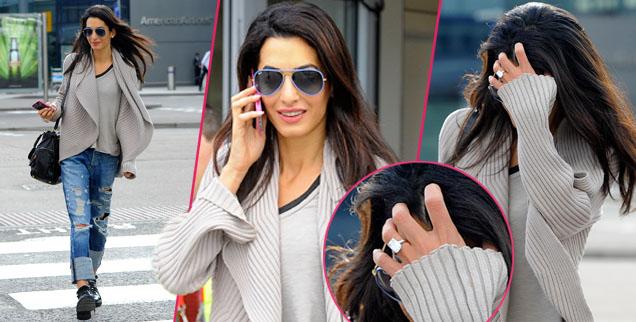 Amal Alamuddin got the man candy. Now she has the hand candy! George Clooney's future wife flashed her newest accessory as she touched down at London's Heathrow Airport Tuesday — and only RadarOnline.com has all the details on the rock.
The 36-year-old attorney effortlessly paired her engagement bling with casual ripped jeans, a beige sweater, black oxfords and Ray-Ban shades.
According to jewelry expert Michael O'Connor, the big 7-carat bauble is estimated at $500,000 and is the symbol of pure love.
Article continues below advertisement
"The platinum engagement ring he proposed to Amal Alamuddin with is totally symbolic of purity," O'Connor told RadarOnline.com.
"Purity of design, purity of diamond and purity of setting. The design is purely classic with ethically-mined diamonds set with a larger center flanked by two tapered baguette diamonds," he added.
"Pure white platinum holds the diamonds securely — and platinum is primarily used at 95 percent purity which makes if one of the most pure jewelry metals," O'Connor continued.
O'Connor added that there's a reason why this sparkler shines bright, and why the former ladies man must have chosen this diamond for his lady love who plucked him out of perpetual bachelorhood.
"The emerald cut diamond, as well as the tapered baguette side diamonds, are cut with fewer facets than most other cuts and shapes," he said, "which sparkles with more pure white light than other cuts."