George Clooney Storms Out Of Dinner After Heated Political Chat With 'A**Hole' Casino Head Steve Wynn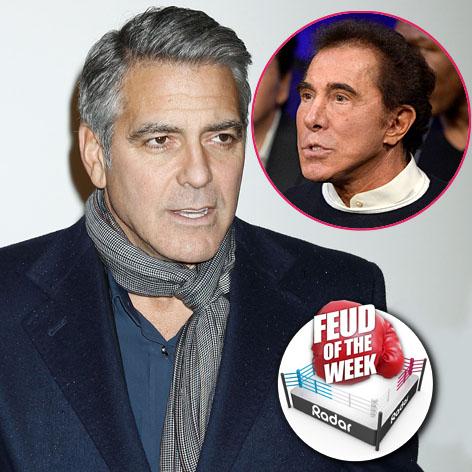 Article continues below advertisement
"Things turned nasty as Wynn was provoking George, talking about politics," a source told the NY Post. "At first George just wasn't responding. He just sat there politely listening. Steve kept pushing and pushing, then started raising his voice. George still didn't respond, he really didn't want to get into it."
"Discussing Obamacare, Steve called Obama 'an a**hole' — George responded, 'President Obama is my friend, don't talk about him like that.' Wynn then shot back, 'Your friend is an a**hole!'"
At that point, the insider told the paper that Clooney told Wynn, "You are an a**hole," and in yet another Danny Ocean-esque twist, an insider told the paper that "Wynn's three goon-like bodyguards immediately loomed up behind Rande and George, but before Wynn's bodyguards could touch them, George and Rande got up and walked out."
The two-time Oscar-winner, in a statement, gave his side of the contentious exchange.
Article continues below advertisement
"He called the President an a**hole … that is a fact. I said the President was my longtime friend and then he said, 'Your friend is an a**hole.' At that point I told Steve that HE was an a**hole and I wasn't going to sit at his table while he was being such a jacka**. And I walked out."
"There were obviously quite a few more adjectives and adverbs used by both of us. Those are all the facts. It had nothing to do with politics and everything to do with character."
"Clooney's fun to be with when he's sober," the gambling mogul told the paper. "If you have a chance to drink with him, you want to get there early, and don't stay late. When he's drinking, he considers himself a close personal buddy of the president.
"Everybody who's in my business, the casino business, knows to take actors with a grain of salt."