Cy Waits Future With Vegas Tycoon Steve Wynn Remains Uncertain, Decision To Be Announced Shortly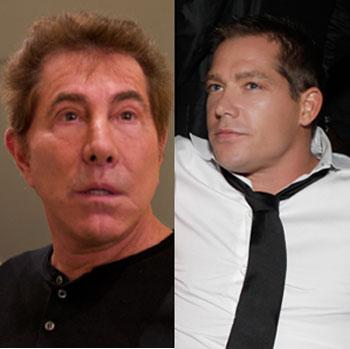 It looks like Paris Hilton's boyfriend Cy Waits is about to get 'eighty-sixed' by Las Vegas tycoon Steve Wynn following his untimely DUI with the notorious 'heir-head'.
OFFICIAL DOCUMENT: Read The Complaint
RadarOnline.com has learned that after crunch talks with his executives, 'no-nonsense' multi-millionaire Wynn could spare his twin brother Jesse Waits as the axe prepares to fall on Cy.
Publicists for Wynn Resorts in Las Vegas were remaining tight lipped today about Cy Waits future but a decision is understood to be imminent.
Article continues below advertisement
Privately, friends of the nightclub promoter believe that Paris Hilton has led him astray in recent months and that he has lost his focus culminating in their run-in with Las Vegas cops during the early hours of Saturday morning.
One Sin City source told RadarOnline.com: "It came as a real surprise when Cy was busted. Although they work in the nightclub business both he and his twin brother were very professional and hard working guys."
"But to cross with Steve Wynn is not a great idea. He put a lot of faith in them and had high hopes that they could promote his clubs in the best way possible."
The source goes on to say about Wynn, "He has a strict policy when it comes down to his top people about breaking the law and unfortunately Cy broke that rule. But he has a dilemma with what to do with his twin brother Jesse because he did not do anything wrong and it was a great marketing tool having twins as promoters."
Article continues below advertisement
"Whatever happens, the final decision will be made by Steve Wynn and he won't be too pleased with Paris Hilton right now that's for sure."
It's understood that Jesse Waits has already met with Wynn and his executives to discuss his future and a strategy is being put in place while taking into account the pending court hearings.
Cy and Jesse Waits had just been promoted to run the exclusive XS and Tryst nightclubs just prior to the arrest.
They even relinquished their arrangement with former owner Victor Drai at his Drai's After Hours at Bill's Gamblin' Hall and The W Hotel in Hollywood to take up their new posts.
Paris Hilton was charged with felony cocaine possession following the incident during the early hours of Saturday morning.
According to the criminal complaint filed by the Las Vegas District Attorney on Monday, Paris "Wilfully (sic), unlawfully, feloniously, knowingly, and intentionally possess a controlled substance, to-wit: Cocaine."
Article continues below advertisement
As RadarOnline.com has previously reported, Hilton was arrested in Las Vegas after cops found .8 grams of cocaine on the heiress at a traffic stop.
Her boyfriend Cy Waits was the driver of the car that was stopped when the officer smelled "the strong odor of marijuana coming from the vehicle." Cy was "administered a series of field sobriety tests, which he failed."
Related Stories:
Paris Hilton Charged With Felony Cocaine Possession; Read The Complaint