Does George Know?! Clooney's Fiancée Was Advisor To 'Dictator' Accused Of Human Rights Violations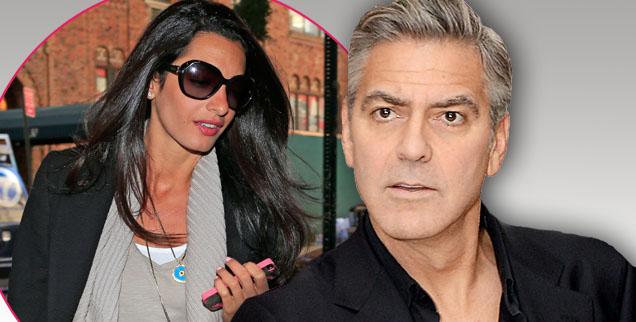 George Clooney's new fiancée, Amal Alamuddin, is gorgeous, brilliant, and self-assured — but she isn't perfect! RadarOnline.com has learned that the successful international attorney has come under fire for her work with leaders of the troubled nation of Bahrain, where she worked as advisor to the King, who is known as one of "the world's enduring dictators." Does Clooney know?
One year after starting her legal career in London, Alamuddin served as legal adviser to King Hamad bin Isa al-Khalifa as part of the Bahrain Independent Commission of Inquiry, intended to uncover human rights violations in the country. That same year, the King was named by CBSNews.com as "one of the world's enduring dictators," noting his use of "martial law," and "gross human rights violations and protester murders," which numbered at least 11 in that year. CBS also accused security forces under his command of "indiscriminate abduction and torture of dissidents."
Article continues below advertisement
But although Alamuddin's work on the inquiry — which was commissioned by the King — was supposedly intended to uncover human rights violations, leading policy blog PolicyMic.com called the final result "a whitewash" and revealed that more than 30 people have been killed by the same security forces supposedly under investigation since the report's release.
Indeed, the country has been slow to take up the report's recommendations, with an April 25, 2014, report from Human Rights Watch noting that "there is no evidence that post-BICI initiatives … have been effective in stopping torture and holding torturers criminally accountable for their actions." An additional report from Americans for Democracy and Human Rights in Bahrain claims that Bahrain "has failed to implement any of the 176 recommendations" of the commission.
Alamuddin, 36, has since stepped down from her role as advisor to the King. But nevertheless, despite what Human Rights Watch called the country's "reputation for torture," PolicyMic claims she has "co-authored a book arguing for an Arab Court for Human Rights, which will be based in Bahrain," a decision they called "eyebrow-raising, given the country's human rights record."
"Alamuddin has the ear of the Bahraini government, as well as the eyes of the world," the site's Lead World Editor, Sara Yasin, wrote. "She's been working on serious human rights issues in Syria, as well as on drones. Perhaps it is time for her to press Bahrain to take its human rights violations seriously too."