Exclusive
Family Vacation! George Clooney's Mom & Dad Heading To Italy For Summer Fun With New Fiancée PLUS Which A-Lister Will Be Best Man At Their Autumn Wedding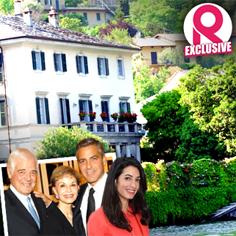 How do you say "Meet my fiancée" in Italian? George Clooney is getting ready to live la dolce vita in Lake Como this summer with his new fiancée Amal Alamuddin, and RadarOnline.com has learned that his parents, Nick and Nina Clooney, will be joining them for a family vacation!
Family members spilled the beans on the summer plans during a Clooney family reunion in Augusta, Kentucky, last week, according to reports.
Article continues below advertisement
His aunt, Starla Clooney, told MailOnline that the duo will make a trip in the next week or two, to "scope out some stuff."
When reached by RadarOnline.com, George's mom Nina did not deny the report, saying only, "We do not comment on anything going on with George, in any way. We've had things taken out of context recently, so we've made it a policy that we do not make any comment."
But with the eternal bachelor turned tamed fiancé's parents set to spend some quality time with his new lady love, it's full speed ahead for the fall wedding. And according to family, there will be at least one A-lister in attendance.
Starla revealed, "I would say he'd choose Brad Pitt for his best man. They are good friends. I would think that's who he'd choose."
In fact, Alamuddin, 36, may already have met him, as she attended a human rights summit in London last week at which Pitt and his fiancée Angelina Jolie were high-profile guests.
As RadarOnline.com has reported, Starla, an ordained minister, has offered to oversee the ceremony if George, 53, and his bride-to-be see fit.
Are you excited for their wedding? Let us know in the comments!