Exclusive
Angelina Jolie Slapped With New Federal Court Appeal — Legal Battle Wages On Over Allegations She Stole Author's Work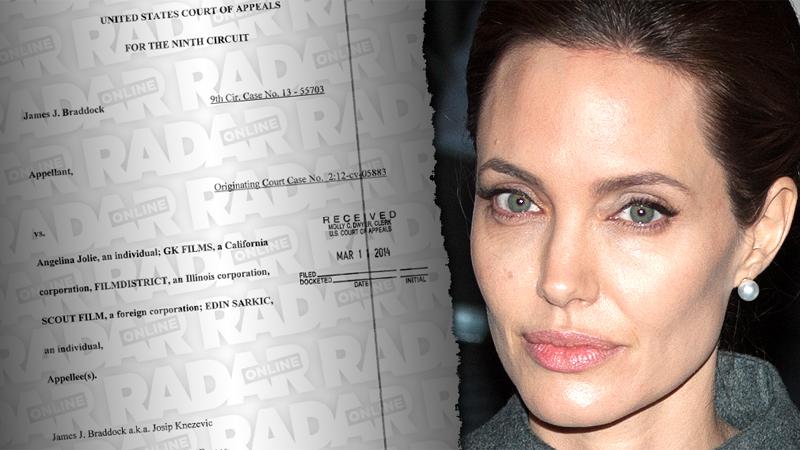 Angelina Jolie must yet again defend herself against stealing an author's work for a movie she did, RadarOnline.com is exclusively reporting.
The Maleficent actress won big last year when a judge ruled in her favor against allegations her movie In the Land of Blood and Honey was taken from a Croatian author — but he hasn't given up.
In new court documents obtained by Radar, The Soul Shattering author, James Braddock — the same man who sued her in 2011— filed an appeal in the case and is not done with his legal battle against Jolie.
Article continues below advertisement
"The court did not compare the whole scene at all elements, but he pulled the individual parts! In this way, the bit violated all the rights of the Appellant's, violated the law and the tests that were performed were not executed in the right way."
Braddock is basically claiming that his novel was not translated correctly and therefore it could not properly be determined if Blood and Honey was similar.
MORE ON:
Celebrity Justice
Article continues below advertisement
Braddock also accuses the previous judge of not reviewing all relevant material and he is asking the appeal court to look over the case again in hopes they overturn the order dismissing his case.
In his original 2011 filing, Braddock claimed that one of the film's producers said in an interview that his book was discussed before making the film and they all decided they wanted to adapt it into a film.
He claimed that Jolie never obtained the rights from him to adapt his book, and he sought damages for the copyright infringement — all of which Jolie denied.
The federal judge sided with Jolie concluding that the two stories were not similar because "Blood and Honey is primarily a story of betrayal, revenge and tragedy with little or no hope, while Slamanje Duse (the book's name in Croatia) focuses on family, love and strength."
Jolie has yet to respond to the new appeal.