'I Do Cry Myself To Sleep!' Says Teresa Giudice As Her Legal Issues, Melissa's Cramped Home & Dina's Divorce Ruins Christmas on 'RHONJ'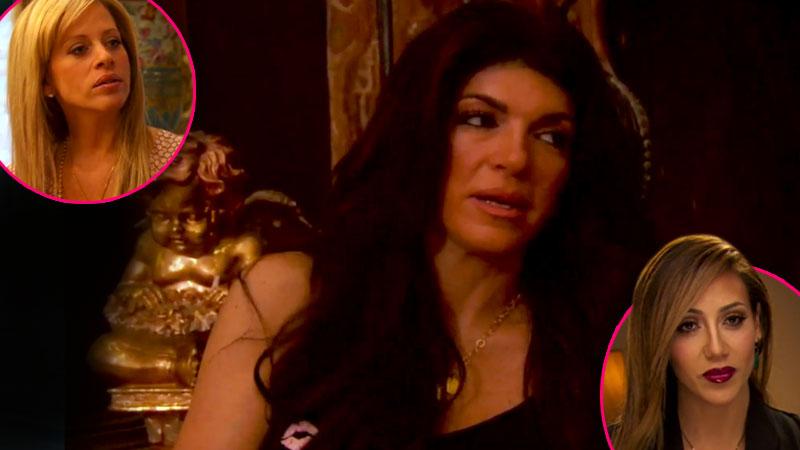 It's Christmas in New Jersey– and despite extravagant presents, over-the-top decorations and the occasional Mimosa, it wasn't the most wonderful time of the year for the Real Housewives of New Jersey.
With Teresa and Joe Giudice facing fraud charges, the couple decided to spend the holiday out of the public eye.
"I hope this all gets resolved soon," Teresa said. "I feel like it's hanging over us. It's just hard to think about being on the other side."
Article continues below advertisement
Melissa and Joe Gorga faced a difficult time of their own: Living in a "small" rental home while their massive mansion is being built.
"The rental is not exactly what Melissa is accustomed to," Joe said in the confessional. "She has clothes in every closet and shoes in the kitchen cabinets.
"We had a hearing for us to start building this house. That means I have to wait 10 times as long to hear Melissa b*tching. I can't take it anymore!"
While feuding with Teresa, Melissa said that she decided to sell their home because she didn't want her children going to school with Teresa's daughters.
But the housewife set the record straight — again.
Melissa said, "We did not move to get away from Teresa. The truth is Joe wanted to be closer to work and this is where we started our family… we kind of feel like we're coming back home."
When Teresa met up with the Gorgas to see the location for their new house, Joe gave her his support.
Article continues below advertisement
"No one's life is perfect, everyone goes through ups and downs," she told Joe. "Look at us, we went through ups and downs and you come back stronger.
"It's not like I'm in denial… but also I'm not going to deteriorate or be miserable because then, what would I be showing my daughters?"
While the Gorga family spent Christmas day sledding, the Giudice family tried to make the holiday as "normal" as possible with gifts of Barbie dolls and a dog for their four girls.
"I wish we didn't have these little issues that we have," Joe told Teresa. "We just have to keep working hard, keep moving forward and keep fighting. That's what makes us the family that we are. I'm glad that I have such a strong wife."
Teresa responded, "I hate us being in the newspaper. I hate us being in the news… I hate seeing that. I do cry myself to sleep sometimes."
When Joe questioned who would take care of the family if he goes on "vacation," Teresa said, "We need you to be around always. This family cannot function without you and despite what people say, this is not going to be our last Christmas together."
Article continues below advertisement
Meanwhile, viewers learned more about new cast member Nicole Napolitano. While out to eat with Dina Manzo, Nicole explained that her divorce was unexpected, and that she is currently living with her mother and father after separating from her husband four years ago.
The ladies then spoke about Amber Marchese, and Nicole's clash with the other new housewife.
"There was a lot of tension with Amber at Amber's cocktail party," Nicole said. "Amber kept on making a big thing about who we invited… I'm not going to ruin a friendship over one disagreement."
After Nicole described Amber as having obsessive compulsive tendencies, Dina responded, "She's an Amber Alert!"
During Christmas dinner, Nicole mentioned to her parents that she wants to eventually move out of their house. At the rate her relationship is going with boyfriend Bobby, it looks like she may be spending next Christmas at home too.
After receiving a shoe-shaped wine glass holder from Bobby, Nicole said, "I'm not a materialistic person. But what your boyfriend gives you for Christmas is a little telling."
Also on Sunday's episode, viewers watched as Dina's Christmas was ruined by her divorce from husband Tommy, and the realization that her daughter is going to college next fall.
Dina lamented, "What I'm getting for Christmas this year is a bundle of divorce therapy sessions and hopefully a couple of Percocet!"