Snarky Singer! Ramona Tells LuAnn, 'You're Afraid To Sing Because You Don't Have Auto-Tune' During Night On The Town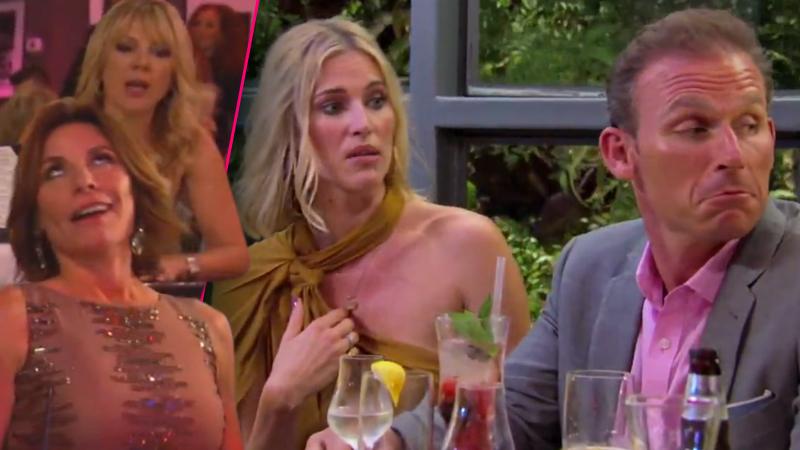 Article continues below advertisement
Heather came to Josh's defense, saying, "I can say running a business, which Josh and I both do, we're both entrepreneurs and sometimes you can't plan that sh*t."
Josh responded, "It's very hard for Kristen to sit in my shoes or in your shoes because she's never had to run a business. She's never raised money.
"She's never had employees… until you do that it's difficult to relate."
Kristen explained to the group, "He had a marketing agency, came home one day and said that no longer exists. It wasn't like, 'How do you feel about this?' I had a thriving career in New York City as a model. He moves us to Los Angeles and you're a big fish in a little pond for like two years."
After Heather continued to take Josh's side, Kristen said in the confessional, "Heather knows how a real entrepreneur thinks because she is one and I am, after all, just a housewife. But you know what? Take my side a little bit. I mean, here we go again," in reference to their Montana trip where she accused Heather of bossing her around and not supporting her while geocaching.
Watch the video right here on Radaronline.com:
Article continues below advertisement
Kristen cooked a meal for Josh in an attempt to have him home in time for dinner. Unfortunately, her efforts were for nothing when he still walked through the door minutes late.
"Where are you? You're twenty minutes late," Kristen asked him on the phone. "I thought we were going to have a date night."
Josh explained that his conference call ran late.
"Why couldn't you just text me and let me know?" Kristen said.
Josh began to yell: "Because I'm in the middle of a conference call with six different people! I don't have time to talk to you about sending a text about dinner. You need to respect that!"
"It makes me feel horrible that my husband yells at me. This is not okay," a tearful Kristen said. "He's obviously stressed out at work. Why do I have to get the brunt of it? I have enough sh*t that I'm dealing with at home."
Article continues below advertisement
After Josh arrived and the couple finally settled down to eat, he suggested seeing a mediator to help them with their problems.
"You're really agreeing to go to therapy with me?" Kristen said after getting on her knees and screaming, "Hallelujah!"
"It's important to get our relationship back on the rails because he's the love of my life and he's an amazing man and the father of my children," Kristen said.
Meanwhile, the Gotham gals went to NYC jazz club Birdland for open mic night. In an attempt to upstage notorious singer LuAnn de Lesseps, Ramona Singer had her husband Mario prepare a song.
"LuAnn is supposed to be singing tonight with Heather as backup. From what I can see Heather's voice is better," Ramona said.
After Ramona learned that de Lesseps chose to sit this one out, she said in the confessional, "I don't blame her! She knows she's not that great of a singer. And guess what? There's no auto-tune here!"
Article continues below advertisement
Ramona confronted her about not singing and LuAnn responded, "It's Mario's night tonight. I've sung here before. I don't want to show him up!"
"He wanted you to sing," Ramona told her. "He thought maybe you were afraid to sing because you don't have auto-tune."
An angry LuAnn responded, "Listen honey, I could do whatever I want and if I feel like singing, I will. I'm not staff that you could order around."
"Just because you're backing out of singing don't get mad at me," Ramona said. "I hear Heather is better than you!"
"I think Ramona thinks her rudeness is amusing and it's not, it's hurtful," LuAnn said.
Mario sung a love ballad to Ramona, leaving the trouble-starting housewife in tears of happiness, as everyone gagged over the lovey-dovey gesture. Heather also rocked out on stage, proving Ramona right by giving a crowd-pleasing performance.
Article continues below advertisement
Watched the video on Radaronline:
Also on Tuesday night's episode, Sonja Morgan chatted with Aviva Drescher about their Montana getaway.
"They think you're lying about your illness. They think the doctor's note was fake and they think your nebulizer is an accessory or something," Sonja told Aviva, who skipped the trip in fear that the high altitude would trigger her asthma.
"Are you being serious?" Aviva replied. "If I didn't want to go on the trip I would say 'Girlfriend, I'm not going on the trip have a good time.'"
Sonja then explained that Ramona told the girls the real reason Aviva didn't show up is because she can't go anywhere without her husband Reid.
"This has nothing to do with Reid. I have asthma… I can't f*cking breathe ladies!" Aviva said as she pulled out her nebulizer and began to use it.
"I'm sick of defending myself," Aviva said in the confessional. "They're supposed to be my friends. I need a break from these girls!"
Article continues below advertisement
But the show wasn't all drama: Ramona and Sonja took Kristen for some non-invasive plastic surgery.
"Let's face it, Kristen and I, we're not exactly friends. Now, I really enjoy her company and I am taking her under my wings," Ramona said.
When Ramona picked up her shirt to reveal her belly in preparation for the procedure Sonja quipped, "You look like Winnie the Pooh like that! Put it away!"
"I definitely don't need this stomach procedure," Kristen said. "But in 20 years when I'm Ramona's age, you never know!"
The Real Housewives of New York City airs Tuesdays at 9/8c on Bravo.