'RHONY': Kristen Taekman Takes On The World!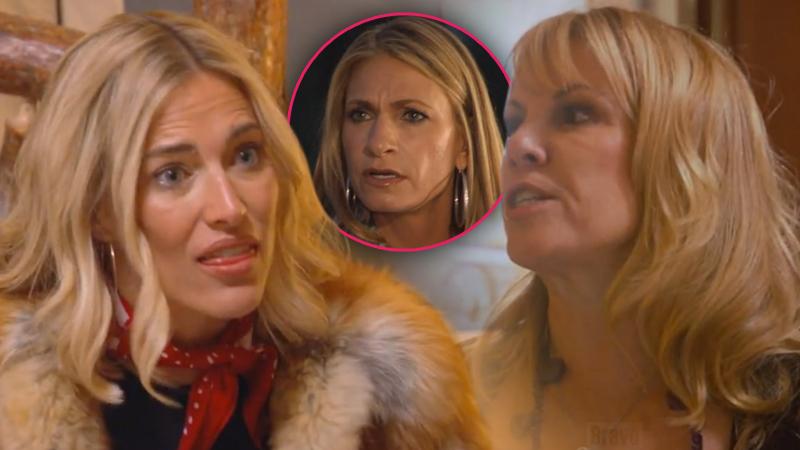 It was Kristen Taekman against everyone on Tuesday night's episode of the Real Housewives of New York City, as arguments with Heather Thomson and Ramona Singer forced the Park Avenue princess's vacation to take a turn for the worse.
And if you thought the city chicks were finally warming up to their Missoula, Montana getaway, think again!
"I'm hot, I'm tired, it's dusty, I've had enough, but what can I do? I'm stuck here," said Singer.
Article continues below advertisement
embed_post post_id="667023"
After ditching the housewives during their disastrous geocaching adventure, Singer welcomed the ladies back to the cabin with a cold beer in hand, and a room full of alcoholic refreshments and snacks.
When Singer learned that Taekman returned to her cabin upset she replied, "Well she should be because she's a sh*t a** hostess."
As the ladies gossiped and drank away, Carole Radziwill checked in on Taekman. During last week's episode, Taekman revealed that she always felt the need to compete with Thomson. After an unsuccessful go at geocaching, Taekman accused Thomson of being "bossy" and "mean" for not taking the activity more seriously.
In addition to discussing her feud with Thomson, Taekman also confessed to Radziwill how bothered she was by the other housewives' behavior during the trip.
"Heather could've been much more supportive. It's like don't turn everybody else against me too," Taekman said. "I just feel like I organized this nice trip. I've been sh*t on the whole time. It's like, why come?"
Radziwill comforted her by saying, "They get mad and they walk away . . . and as quick as they do that, is as quick as they love you again, and it's all fine."
Article continues below advertisement
Off to their next activity, the ladies were excited when they prepared for glamping — i.e., is glamorous camping.
embed_post post_id="666309" align="right"
Well, everyone except for Sonja Morgan.
"I don't care how glamorous it is, it makes me want to stay in my bed," Morgan confessed.
Singer tried to force the always-commando housewife out of bed, and even witnessed a nip-slip by Morgan.
Morgan then threw a jab at the absent — who was able to get out of the trip by telling everyone that traveling to Montana would set off her asthma.
embed_post post_id="672118"
"Tell them I have asthma," Morgan joked.
While glamping, Taekman commented on the difficulty of being a hostess for the ladies.
This didn't sit well with self-proclaimed hostess Singer: "She said she did all this work. What work? I've been doing all the work… I take control!
Glamping only got worse for Taekman when she continued her argument with Thomson right where it left off.
Article continues below advertisement
"You're pissed off because I called you bossy in the woods today," Taekman said. After Heather denied being upset, Taekman continued, "You're mad at me because I called you bossy and you can't own up to it.
embed_post post_id="672411" align="right"
"Why can't you just own up to the fact that you're bossy? You're bossy at work. You're the boss at home."
Thomson snapped back, "Now you're judging me controlling Jonathan?"
Taekman continued: "It's not me judging — it's the truth! You boss your husband around like you're the boss at work and you're the boss with your friends. Own up to it!"
"Don't judge me and my husband and tell me that I boss him around because he deserves more respect than that," Thomson said. "And I won't let you sit here and say it."
After Taekman replied that she would continue to express her opinions, Thomson said, "I don't know who, what or where you're going, but I suggest you stop really fast."
Article continues below advertisement
Most of the ladies sided with Thomson over Taekman.
embed_post post_id="669317" align="full"
Morgan said in the confessional, "I will disagree with Heather being bossy in her marriage.
"I think Kristen makes a lot of assumptions and sometimes she just makes up sh*t to get attention," she said, while Radziwill told Taekman, "The issue she had with you was the way you said it. It was mean . . . And also bringing up her husband — that's not cool."
To celebrate their long-awaited last night at the ranch, Taekman planned hatchet throwing.
"It's like you're going to kill somebody," Singer said as she attempted to hit the target.
embed_post post_id="665514"
The ladies seemed to finally be enjoying themselves after the weeklong trip.
Taekman said, "Ramona seems relaxed, Carole just flashed a squirrel. I get it now! Throwing sharp objects makes these women happy. I wish I knew that at the beginning of the trip."
Article continues below advertisement
Taekman finally attempted to make amends with her long-time friend: "I had a hard day yesterday. I was really, really upset. I wanted to geocache and I was actually enjoying it and you were off doing your own thing."
Thomson replied, "Your tone Kristen sucked. You were aggressive, you were out of line and you need to apologize, but you can't do that. You're still being aggressive toward me."
embed_post post_id="661908" align="full"
Taekman responded, "The problem is that there is nothing wrong with me voicing my opinion in my friendship. I'm sorry that I had really bad delivery. I didn't mean to make you feel that way. I'm closest to you out of everybody.
"You were there and I freaked out on you Heather and I feel like as a friend that's what happens."
"Okay I accept your apology," Heather said. "You can freak out on me anytime you want to. I will take any bullet for you … I love you to death."
Watch the video on Radaronline.com:
The Real Housewives of New York City airs Tuesdays at 9/8c on Bravo.