Happy 30th Anniversary! Michelle Duggar Dishes On The Wedding & Honeymoon With Jim Bob — Including How They Cut Corners To Save A Penny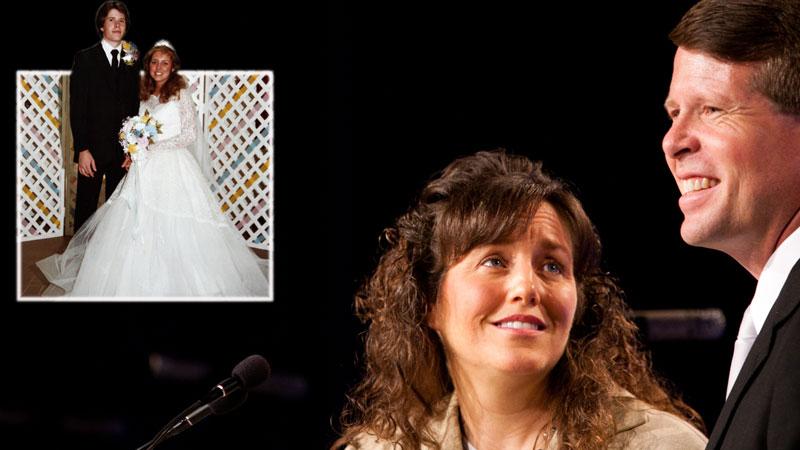 Thirty years of marriage, 19 kids and three grandkids later, Michelle Duggar is opening up about what her wedding day and honeymoon was like with Jim Bob — and RadarOnline.com has all the penny-pinching details.
July 21 marks the couple's 30th wedding anniversary and although they plan to celebrate with a "special lunch," Michelle blogged details about how their blossoming family began.
Turns out Michelle and Jim Bob were thrifty from the start — the mother-of-nineteen even baked her own wedding cake, wore Jim Bob's mother's wedding dress and booked their honeymoon at an Arkansas state park.
Article continues below advertisement
"My wedding to Jim Bob almost 30 years ago was sweet and simple . . . I wanted to do as much as I could myself as a way to save money and keep the expenses reasonable," Michelle blogged.
"For the wedding cake, I made it myself and froze it. A friend decorated it for me using icing that she made with ingredients I bought for her. Another special touch was wearing Jim Bob's mother's wedding dress as my dress. Everything we did for our wedding was so inexpensive, but perfect for us."
Wed in the hallway because their church was being renovated, the couple didn't buy any flowers for the big day except a bouquet of fake flowers for Michelle with the idea that she could later use them to decorate their home.
"The reception was very simple with cake, nuts and punch. It was such a sweet time! We invited our closest friends and family (about 200 people)," Michelle wrote.
"Although we didn't videotape our wedding, we took a lot of pictures and we had it recorded on cassette tape. As our children were growing up, we would listen to our wedding cassette again every year on our anniversary. We would reenact the ceremony, show them how we walked down the aisle and tell them the stories about what it was like."
MORE ON:
19 Kids and Counting
Article continues below advertisement
So while they didn't spend much on their wedding, the Duggars decided to splurge on their honeymoon at state parks in Arkansas — but even that didn't work out as planned.
"We were going to go to Mount Nebo and Lake Fort Smith, both in Arkansas. We chose state parks for our destinations because the cabins there were so reasonable. When we arrived at our first destination, we couldn't believe the difference between the photo on the brochure and the reality," she explained.
"The picture showed a lovely cabin right beside a beautiful flowing river, but when we got there, the cabin was really rundown with awful orange curtains — and cobwebs everywhere! On top of that, the river was completely dried up; there was no water at all. So we opted instead to go into town and stayed at a hotel in Fort Smith. We didn't get the setting we were anticipating for our first night together, but it was still sweet. Next, we went on to the incredibly scenic Mount Nebo and stayed for a few nights. At that point, our car started acting up and we were like, you know what? Let's just go home to our house, to our new place, since we were looking forward to being there together."
Michelle says they spent the rest of their honeymoon fixing up the 900-square-foot starter home they'd purchased.
"We were living on love and it was so exciting," she added.