19 Kids And Subtracting? Michelle Duggar Fears Daughter Jill's Engagement Will Split Up Family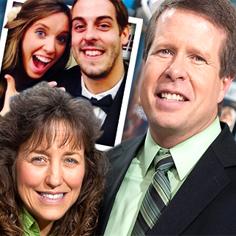 19 Kids and Counting matriarch Michelle Duggar is worried about subtracting when it comes to her soon-to-be-married daughter, Jill Duggar.
Although she and husband Jim Bob Duggar are thrilled that Jill, 22, got engaged to her boyfriend, Derick Dillard-- in a touching scene that was shown on their TLC series finale– like any parents, they fear losing their baby!
Michelle wrote in her latest Duggar Family blog, "It really is so exciting for our first daughter to be engaged. Even Jim Bob tears up quite a bit these days. He's so happy for Jill and he really appreciates Derick and who he is. We know Derick is going to make a great husband and, hopefully, father.
Article continues below advertisement
"But, at the same time, Jim Bob and I are saying to ourselves, 'Oh, wow.' We're realizing our girl is going to start a home and her own family, and that's a big deal, especially for dad."
Also, Michelle, 47, confided to fans that she realizes once they're married, Jill and Derick might wind up living in another country.
When Jill met Derick and they began their conservative Christian courtship, he was a missionary working in Nepal.
"After they get married who knows where they'll be?" Michelle wrote on her blog. "Jill and Derick both have a dream to do international humanitarian work or mission work, as they call it.
"Whatever the Lord has for them, Jim Bob and I realize our kids will probably scatter all over the world. We trained them from the time they were little to have a ministry mindset, and be willing to go wherever God calls them. I think they'll give us some interesting destinations to visit as grandparents!"
Article continues below advertisement
Michelle also elaborated on the young couple's old-fashioned courtship, which consisted only of side hugs until they got engaged.
"It was really sweet, the night before Derick was going to propose he called Jim Bob and asked if it was ok if he held hands with Jill after they were engaged," Michelle blogged.
"We'd always encouraged them to set the standards for their relationship ahead of time and then to keep those standards upfront so that there's accountability. Jim Bob said that holding hands would be just fine."
Michelle described her daughter as a social butterfly who "lights up the house." But after their upcoming June 21 wedding, Jill and Derick will be moving on to their own life as a married couple.