Duggar Daughter Courting: Jill's First 'Side Hug' With New Beau While Dad Jim Bob Chaperones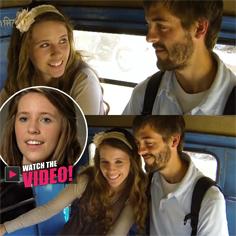 Article continues below advertisement
"You don't want to be too strict but you don't want to be too liberal either, just letting them do whatever," Jim Bob said about how much control he is going to have over his daughter's relationship.
"I encouraged them to set their own standards as they're getting to know each other."
But he sat and watched as Derick put his arm around Jill for the "side hug."
"We had actually talked about it first, before we met," Jill explained.
"A side hug is a good medium between super closeness and too distant."
Check out the intimate first hug as Jill gets to know Derick courting and tune into 19 Kids and Counting on TLC Tuesday at 9/8c.