How Much A Day? Michelle Duggar Reveals Family's Shocking Grocery Budget For 20 People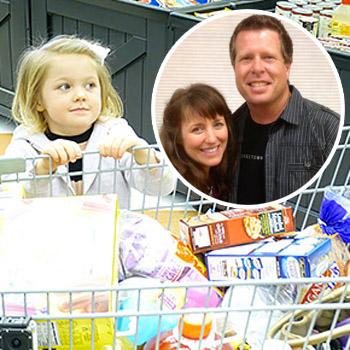 Feeding 20 people is NOT an easy task but Michelle Duggar revealed the shocking amount she spends on her family grocery bill every month and added that it has almost doubled in the last year.
The 19 Kids and Counting star is tasked with feeding the 18 kids still living under her roof as well as herself and hubby Jim Bob Duggar and she manages to do it all on a $5 a day budget!
"Our goal for our monthly food budget is $3,000," Mama Duggar detailed on her new TLC blog.
Article continues below advertisement
"It used to be more like $2,000, but we've noticed the costs of groceries have gone up. Also, our boys have grown a lot and they have hollow legs. Josiah,Jedidiah, Jeremiah, and Jason are all tall and lanky, and I jokingly say every two hours we have to fill up those hollow legs to make them grow a few more inches."
As viewers of their hit reality show know, the family, who pride themselves on living debt free, has a few quirky food habits (turkey bacon allowed any time, dad Jim Bob's fried tuna fish sandwich) and Michelle explains where they shop for their food.
"For groceries, we mainly shop at discount grocery stores, warehouse clubs and co-ops. You can save thousands of dollars by doing just that. We buy mostly in bulk and stock up once a month on staples like butter, cereal and oats--it's just cheaper. And then I go back every three or four days to get our fresh produce.
Could your family eat as cheaply as the Duggars? Sound off in comments!