Going To The Chapel! Courting Duggar Daughter Jill Reveals Romance Secrets — & Wedding Details! — On The Eve Of Her Big Day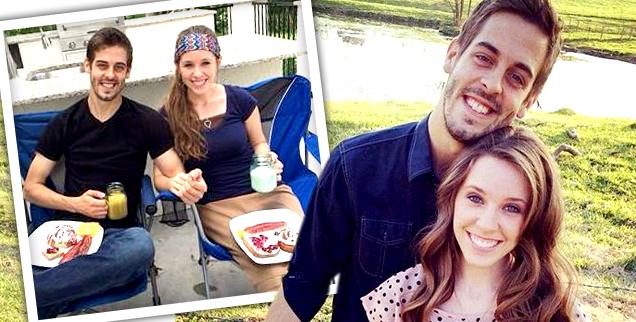 Article continues below advertisement
"I was super excited to text Derick back and forth, and then we were able to Skype," Jill wrote on her The Knot wedding website.
"Our first call lasted 5.5 hrs and I asked him a ton of questions! I jokingly say it was "love at first Skype"! It really helped me feel secure to know that Derick and my dad had already got to know each other and that my dad admired him. During Derick's time in Nepal, he was 10hrs and 45 min ahead of us so we would try to get in talk time when it would work best for both our schedules. And then there were other times when he was trekking in the Himalayan mountains for days at a time without any communication."
Michelle Duggar's first daughter to get married explained how they got the sparks to fly.
"Although the distance was hard, we are grateful that we were able to really work on developing good communication, something that's an important part in marriage."
And gushing about the very mundane activities that enabled her to get to know Dillard, she wrote the ways she familiarized herself with him.
"Also, during this time I was able to hang out with Derick's family, visit his church, and even went to his house and rode in his car a couple times!"
Article continues below advertisement
The daughter of a deeply religious family, Jill explained that from her first meeting in November 2013 to their March engagement they trusted in God to guide their love.
"The more I spent time with him and observed his integrity, sweet spirit and love for God and service to others, the more I fell in love with him! Our goals align perfectly with how we see God leading us and we both feel we can serve Him better together than separate!"
Her fiancé also gave details about their relationship on the wedding website.
"By the end of the trip I felt the Lord directing me to ask Jill to officially begin a courtship relationship," Dillard wrote.
"She agreed and we continued getting to know one another. It would still be two months before I completed my two year term and would move back home to Arkansas."
Congratulations to Jill and Derick on the eve of their wedding!