She's No Kim Kardashian! Duggar Daughter Jill's Low-Budget Wal-Mart Wedding Registry REVEALED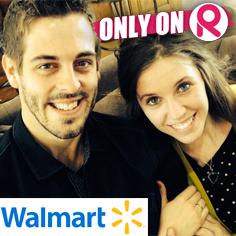 Are the Duggars the anti-Kardashians? Though Kim Kardashian raked in luxe gifts like a $325,000 Ferrari for her last wedding to Kris Humphries, reality star Jill Duggar has registered for modestly priced gifts at Wal-Mart as she prepares to walk down the aisle. Only RadarOnline.com has the exclusive details of her low-budget bridal wish list!
The 19 Kids and Counting star will walk down the aisle on June 21 surrounding by her many family members and friends, but in the meantime, they can help her set up her own house with a variety of down-home gifts.
Article continues below advertisement
Michelle and Jim Bob Duggar's daughter, the virgin bride who has so far only shared a "side hug" with her fiancé Derick Dillard, is staying true to her Arkansas roots with a gift registry in the store that was founded in her home state. And though the family normally shops at thrift stores, she's staying frugal too, with the most-expensive present coming in at a mere $149.97.
On the other end of the spectrum, the least-expensive gift is a $1.98 Glad pot-luck container. Family and friends are also able to purchase a Bissell vacuum for $47.84, a suitcase for $19.00, a $60 ironing board or $8 pillows.
The conservative Christian has been courting Dillard since being introduced to him via Skype by her father.
What would you buy Jill Duggar for her wedding? Tell us in comments.