Virgin Bride Jessa Duggar: I'll Get My First Kiss On My Wedding Night! -- New Season Of  '19 Kids & Counting' To Cover Her 'Courtship'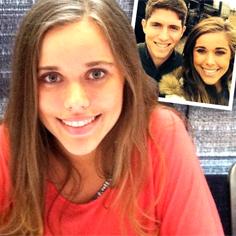 While other 21-year-olds twerk half-naked on TV, RadarOnline.com has learned that 19 Kids & Counting star Jessa Duggar plans to open up about her very different reality in the upcoming season of the show.
TLC reps have revealed that the new season, which returns on April 1, will focus on Jessa's incredibly chaste "courtship" with her boyfriend of several months.
Jessa, 21, and her boyfriend Ben, 18, "refrain from kissing or holding hands and always have a chaperone on dates, phone calls and even text messages," a new TLC press release explains.
Article continues below advertisement
"They want to wait on the physical stuff until later," mom Michelle Duggar has said, and they won't even kiss until they are wed.
I May Be Too Old: Michelle Duggar Still Trying For More Children
In the meantime, they're allowed a brief hug to say hello or goodbye, which is an improvement from the "side hug" they were permitted when initially dating.
Now that they're officially "dating with the intent to marry," however, things are getting serious. This season, according to the press release, "the Duggar boys put Ben to the test, making sure he's ready to take care of their sister. Later, the tables are turned when Jessa visits Ben's hometown and gets hit with some serious questions during a double date with Ben's parents."
Jessa and Ben met last fall at church.
"They are enjoying getting to know each other and recommending sermons to one another," Jessa's dad Jim Bob Duggar said at the time.
"He's the first one she has shown interest in that has a spiritual focus and legitimate calling about ministry work," he explained. "When a guy is pursuing your daughter, you want to check him out and see if there are any red flags and with Ben, there hasn't been. He is very sharp. It appears like a match made in heaven."
Do you think Jessa and Ben's relationship rules are too strict or just right? Let us know in the comments!