Exclusive
Michelle & Jim Bob Duggar Give Daughter Jessa Dating Advice: Don't Make Our Same Mistakes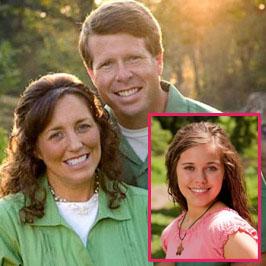 Michelle and Jim Bob Duggar are thrilled that their daughter Jessa has started "courting" a young man and after 29 years of marriage they are hoping that she will learn from both their successes and their mistakes.
The 19 Kids and Counting stars are back for another season of their TLC reality show and the parents exclusively told RadarOnline.com that their daughter is "getting to know" her new boyfriend.
Article continues below advertisement
"Jessa and Ben Seewald have been together for a couple of months and they're getting to know each other," Jim Bob said about his 20-year-old daughter and her new beau.
The conservative family's daughter is "courting" Ben and her parents have encourage her to get to know him on a deeper, spiritual level.
"Both of them love studying the Bible and he is thinking about becoming a pastor. They have similar interests and are really a match made in Heaven," Jim Bob said.
He explained that Jessa and Ben have been "asking a lot of other young couples about their standards and the directions they went. They are learning about having a spiritual relationship."
The "courting" process that the Duggars practice doesn't encourage a physical relationship before marriage and Jim Bob explained he and Michelle shared the mistakes they believe they made in their marriage and hope that their children don't make the same ones.
Article continues below advertisement
"We hope they save they physical for when they are married. When Michelle and I were dating we took things father than we should have and we regret that. We hope they hold off on any physical aspect until they're married and that they focus on their spiritual relationship."
Michelle told RadarOnline.com that it is exciting to see her daughter "being mature in her conversation."
She said that Jessa and Ben decided not to even hold hands in their relationship and that she has developed these strong ethics in her children over time.
"We have long conversations and talk about how we do two things. One, we serve the Lord, and two, we serve other people."
Michelle said that she would love to attend her daughter's wedding but that she certainly isn't going to make any decisions about that in the near future.
"We don't have a timeframe at all," Jim Bob said about their relationship plans but said Ben "fits with our family and he will make a great husband for Jessa."
The season premiere of 19 Kids and Counting airs on TLC Tuesday at 9/8c.