A Duggar-Style Threesome! Michelle And Jim Bob Take Their Daughters On A Triple Date With Etiquette Lessons For Courting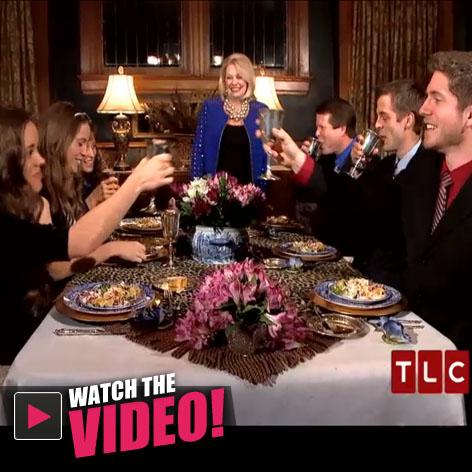 Article continues below advertisement
Dillard, who is set to walk down the aisle with virgin bride Jill, 22, on June 21, is finally home from Nepal, where he was doing missionary work, and the Duggar parents decide they should celebrate.
"The plan was a big surprise. We're going to go and learn some dinner etiquette!" Michelle gushes.
Dillard admits to the cameras as Jill giggles, "I was really nervous….I've been in a country where we ate with our hands for two years."
The etiquette expert teaches the guys how to pull out chairs for their ladies and seat themselves across the table.
I May Be Too Old: Michelle Duggar Still Trying For More Children
And Seewald, who has gotten serious with Duggar daughter Jessa, 21, offers "a toast to love" as the others look on.
"Ben—he is such a sweet romantic," Michelle marvels. "I thought, how precious!"
Dillard said, "I wish I'd thought of it."
Article continues below advertisement
Check out the triple date on 19 Kids and Counting on TLC Tuesday night at 9/8c.