Duggar Family Continues To Embrace Ministry Mentor On Their Website, Despite His Resignation Due To Sexual Harassment Allegations From More Than 35 Women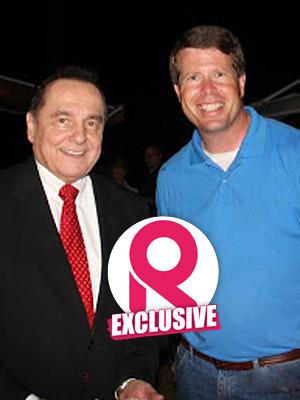 Even though Bill Gothard has resigned from his position as leader of the Institutes for Basic Life Principles ministry after sexual harassment allegations against him from more than 35 women were revealed, RadarOnline.com has exclusively learned the Duggar family continues to support him on their website.
On the Duggar's website, they have a section devoted to family photos — including an album labeled: "A Few Highlights from Big Sandy ATI Conference 2010."
Article continues below advertisement
ATI refers to Gothard's Advanced Training Institute, a homeschooling program in which the Duggars have been active participants "that provides curriculum and training to support parents in raising their children to love the Lord Jesus Christ, reason wisely based on the principles of Scripture, have world-changing purpose in life, and give Biblical answers to the needs of our day."
Photos in the album include a photo of Jim Bob with Gothard, daughters Jill and Jinger at the ATI Regional Conference in Texas, Jana"leading children onto the stage for their performance" at the conference, a group of the Duggar's younger children on stage singing "I've Been Redeemed" at the conference, Jedidiah with some pals at the conference and Jessa also posing with friends at the retreat.
As Radar previously reported, after a letter written by a young lady named Lizzie was published in 2012 online detailing what she described as "unwanted and unwarranted emotional and physical attention from a man in a position of authority to young women who could not refuse it," from Gothard, loads of women would soon come forward with similar allegations.
And earlier this month Gothard, 79, resigned from his position in the ministry by sending a letter to families in the group telling them that he was departing.
"To give his full attention to this objective, Mr. Gothard has resigned as president of the Institutes in Basic Life Principles, its Board of Directors, and its affiliated entities," David Waller, administrative director of the Advanced Training Institute to families involved in the ministry, wrote in an email.
The 19 Kids and Counting stars had another of the conservative Christian organizations they're involved in come under fire last year too, when Doug Phillips, the head of Vision Forum Ministries, confessed to having an extramarital affair and the group announced that because of his "serious sins" they closed their doors.