Duggar Family Scandal: Conservative Religious Organization Closing After Leader's 'Serious Sins' Cheating Admission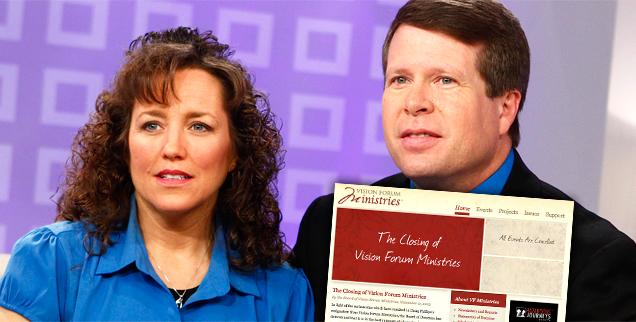 A conservative Christian organization that Michelle and Jim Bob Duggar have been involved with for years is in the center of a shocking scandal, involving the leader's resignation following his cheating admission and the announcement that the organization is shutting down.
Doug Phillips, the head of Vision Forum Ministries, a group with close ties to the Duggar family, has confessed to having an extramarital affair and the group has announced that because of his "serious sins" they have closed their doors.
Article continues below advertisement
"I engaged in a lengthy, inappropriate relationship with a woman," Phillips admitted, providing explicit details of his relationship, writing: "while we did not 'know' each other in a Biblical sense, it was nevertheless inappropriately romantic and affectionate."
The Vision Forum Ministries announced that they are going to "discontinue operations," and they will close the ministry.
In shutting down the organization explained: "While we believe as strongly as ever in the message of the ministry to the Christian family, we are grieved to find it necessary to make this decision. We believe this to be the best option for the healing of all involved and the only course of action under the circumstances," and said they have stopped taking donations, but they are continuing to sell their merchandise.
Both Michelle and Jim Bob have been very active with appearances for the organization and selling products that are still available on the Vision Forum Ministries website, including Michelle's many books and DVDs where she gives advice on mothering, being a wife and her strong Christian beliefs.
The Duggars and Phillips are members of the Quiverfull religion and Vision Forum Ministries honored Michelle with the Mother of the Year Award in 2010.
The 19 Kids and Counting stars have participated in many forums hosted by Vision Forum Ministries and attended events with the organization.
Phillips described how he and his family are dealing with his infidelity, saying: "There are no words to describe the magnitude of shame I feel, or grief from the injury I caused my beloved bride and children, both of whom have responded to my repentance with what seems a supernatural love and forgiveness."