Duggar Family Mentor Sex Scandal: Bill Gothard Resigns From Conservative Religious Organization After 35 Women & Teenagers Accuse Him Of Sexual Harassment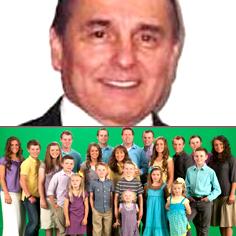 Article continues below advertisement
The 79-year-old, who is not married, quoted the Bible saying he wanted to "listen to those who made accusations against him."
"To give his full attention to this objective, Mr. Gothard has resigned as president of the Institutes in Basic Life Principles, its Board of Directors, and its affiliated entities," David Waller, administrative director of the Advanced Training Institute to families involved in the ministry, wrote in an email.
ATI is a homeschooling program in which Jinger Duggar quoted the organization's theme song in the Duggar's book The Duggars: 20 and Counting!
News of his allegations broke when a letter written by a young woman named Lizzie was published in 2012 online detailing what she described as "unwanted and unwarranted emotional and physical attention from a man in a position of authority to young women who could not refuse it," and multiple women soon came forward with similar allegations.
Article continues below advertisement
The website Recovering Grace claimed to have identified at least 34 other women by name who allegedly experienced the same sexual harassment and the IBLP Board of Directors had, on more than one occasion, addressed the behavior with Gothard. They released a statement about the situation on February 3.
"We have had men and women who served in the Institute in Basic Life Principles leadership confirm that the allegations are true, although they felt (and often were) powerless to do anything at the time. In fact, we have learned that the IBLP Board of Directors has on more than one occasion addressed this behavior with Bill Gothard, but to no lasting avail."
"Whereas Bill Gothard has exhibited a 40-year pattern of moral failure, abuse of spiritual authority, and mishandling of Scripture, and is therefore disqualified from Christian ministry, according to Titus 1 and I Timothy 3, we believe that the only biblical course of action is for Bill Gothard to step down from all ministry and leadership positions, publicly repent of the above sins, and exhibit fruit in keeping with repentance (Matt. 3:8)."