Duggar Family Mentor Sex Scandal: More Than 35 Young Women & Teenagers Accuse Bill Gothard Of Sexual Harassment, Claims Source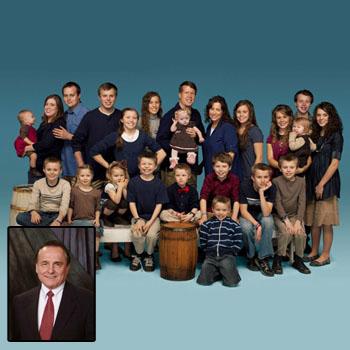 An organization the Duggar family belongs to is under fire after the ministry's founder was placed on administrative leave after allegations of sexual harassment against women who worked with him went unreported, RadarOnline.com is reporting.
Bill Gothard founded the Institutes for Basic Life Principles — a ministry which Jim Bob Duggar, wife Michelle, and their children had gathered on several occasions — but after a letter written by a young lady named Lizzie was published in 2012 online detailing what she described as "unwanted and unwarranted emotional and physical attention from a man in a position of authority to young women who could not refuse it," loads of women would soon come forward with similar allegations.
Article continues below advertisement
Gothard also founded the Advanced Training Institute, a homeschooling program in which Jinger Duggar quoted ATI's theme song in the Duggar's book The Duggars: 20 and Counting!
Michelle Duggar's Miscarriage Tragedy To Be Aired On 19 Kids and Counting
Q: How do you feel about what other people may think or say about your family? Have you heard anything that is particularly hurtful?
A: Our parents have taught us to work at doing right and not worry what others think of us. Yes, sometimes we hear some negative and potentially hurtful comments. But when those negative comments come, we are reminded to accept the ten unchangeable things about ourselves that make each person a unique individual: (1) the way God made us, (2) our parents, (3) our brothers and sisters, (4) our nationality, (5) our mental capacity, (6) our time in history, (7) our gender, (8) our birth order and placement in our family, (9) the fact that we grow older as the years pass, and (10) the fact that life is a race against time and the best way to use that time is to serve God and others.
Article continues below advertisement
In June 2013, Gothard emailed the website hoping to reconcile, and after 12 days of emailing back and forth, the site said on Feb. 3:
I May Be Too Old: Michelle Duggar Still Trying For More Children
"We have had men and women who served in the Institute in Basic Life Principles leadership confirm that the allegations are true, although they felt (and often were) powerless to do anything at the time. In fact, we have learned that the IBLP Board of Directors has on more than one occasion addressed this behavior with Bill Gothard, but to no lasting avail."
"Whereas Bill Gothard has exhibited a 40-year pattern of moral failure, abuse of spiritual authority, and mishandling of Scripture, and is therefore disqualified from Christian ministry, according to Titus 1 and I Timothy 3, we believe that the only biblical course of action is for Bill Gothard to step down from all ministry and leadership positions, publicly repent of the above sins, and exhibit fruit in keeping with repentance (Matt. 3:8)."
Article continues below advertisement
Following the push from Recovering Grace, board chairman Billy Boring told World magazine: "After completion of the review, the board will respond at an appropriate time, and in a biblical manner." In the meantime, Boring continued by saying Gothard "will not be involved in the operations of the ministry. The board of directors will be prayerfully appointing interim leadership."
During an episode of 19 Kids and Counting that aired in April 2013, after showing signs of "rebellion," Jim Bob and Michelle sent their seventh child Joseph Duggar to Gothard's military boot camp for young men, the ALERT Academy, for nine weeks of emergency training.
Gothard, 79, is single and has also been linked to former presidential candidate Mike Huckabee, Sarah Palin, and former Georgia Gov. Sonny Perdue.
Article continues below advertisement
He was photographed at a campaign lunch with Huckabee, Palin attended his International Association of Character Cities conferences in Alaska when she was the mayor and even named Wasilla as one of Gothard's "Cities of Character," and Perdue spoke at one of Gothard's conferences.
As RadarOnline.com reported last year, a conservative Christian organization that Michelle and Jim Bob have been involved with for years was also at the center of a shocking scandal when Doug Phillips, the head of Vision Forum Ministries, confessed to having an extramarital affair and the group announced that because of his "serious sins" they closed their doors.
Gothard has made no public statements and according to Recovering Grace, during their correspondence with him "at no time did he admit to or indicate that he took responsibility for any of the inappropriate behavior, only that he desired that the 'painful memories' of those involved in the IBLP ministry could be 'resolved.'"