It's A Boy -- TLC's Duggars Expecting First Grandson!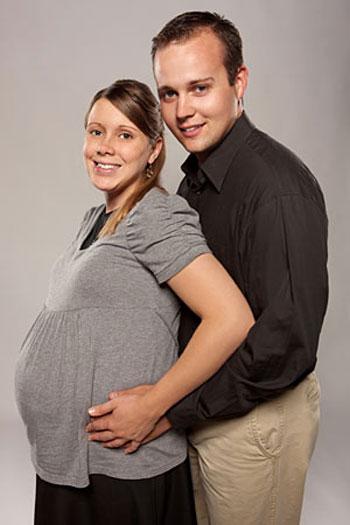 The oldest of the Duggar family's 19 kids, Josh, is expecting a son with wife Anna next summer, RadarOnline.com has learned.
Josh, 23, and Anna, 22, have a 17-month-old daughter named Mackynzie; in an interesting twist, the young couple decided to let Josh's mom, family matriarch Michelle, break the news to them about the gender of the child, who doctors told them is expected June 19.
"We went to the ultrasound and decided that my mom would know," Josh told People. "We figured she could handle the secret and then have a surprise sharing of the information with the entire family, including me and Anna. I think Anna was getting a little be anxious and excited to know, kind of antsy."
Article continues below advertisement
"We thought it was fun to have the whole family hear at the same time and have the excitement together, but it was hard to wait," Anna told the magazine, adding, "We are ... preparing for a home birth this time."
So have they picked out a name yet?
Josh told the magazine, "We still have a little time left to decide -- Anna and I will find a good name that will be perfect for this little boy."
Anna said she and her hubby are already have customs and rituals for the unborn Duggar.
"Our No. 1 tradition is having Josh read the bible to the baby. And we tell the baby, 'We love you and we can't wait to meet you.' We are explaining to Mackynzie about having a new baby in the house. I don't know if she knows the difference between a belly button and a baby, but she is learning."
The entire clan learns the baby will be a boy when 19 Kids and Counting airs Monday at 10/9c on TLC.
RELATED STORIES: