Martha Stewart & Emeril Lagasse Get Chopped Up In Knife Lawsuit – Company Claims The Cooking Duo Hawked Knock-Off Knives!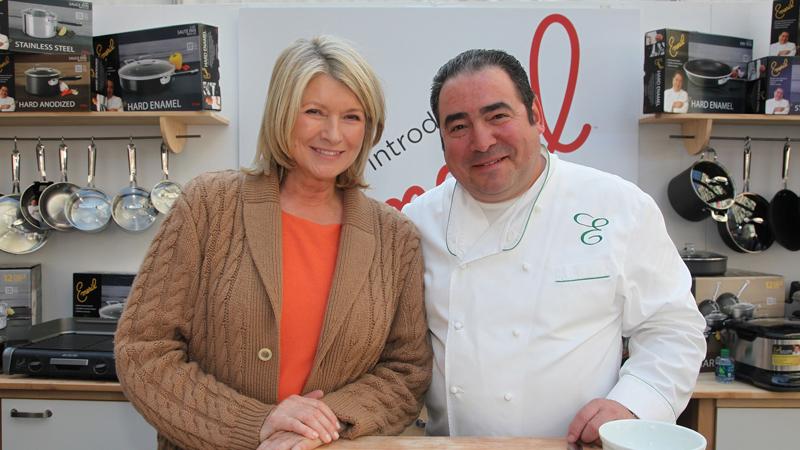 No stranger to legal woes, Martha Stewart has narrowly escaped yet another run-in with the law. But she wasn't alone this time.
The homemaking queen and celebrity chef Emeril Lagasse reached a court settlement in a $2 million lawsuit that alleged the cooking duo duped consumers into buying knock-off knives, RadarOnline.com is reporting exclusively. Per the settlement, both have voluntarily agreed to have a permanent injunction slapped against them for selling their product.
Article continues below advertisement
The case goes back to 2012 when Solingen, a brand known for its blades, sued Lagasse after he sold his knife line on the Home Shopping Network with the words "Solingen, Germany" on them.
The knife company claimed that Stewart and Lagasse were duping people into believing the knives were made in Solingen, which is also known as the "City of Blades." The company claimed that the knives were in fact made in China!
MORE ON:
Celebrity Justice
The Solingen company also requested the court enter a permanent injunction against the foodies from selling their knives on HSN. But weirdly enough, while the company was claiming trademark infringement, the celebrities had already filed a counter-suit!
According to Stewart and Lagasse, the blade masters didn't have a valid trademark on their blades of glory.
But as of January, the judge signed off on an order that explains that while both Stewart and Lagasse didn't admit any wrongdoing, they acknowledge the company's valid trademark for the name "Solingen."
But without any admission of wrongdoing or any evidence, the Food Network stars are prohibited from selling any items that infringe on the trademark.