Martha Stewart Goes On Epic Rant About Her Broken iPad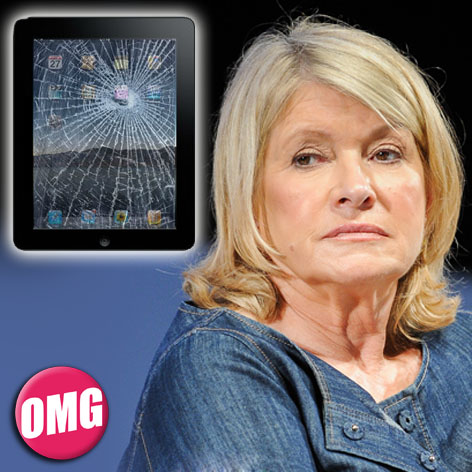 Driving to her local Apple store and waiting in line to see a service rep was NOT what Martha Stewart had in mind when she broke her iPad.
Instead, the author of The Martha Rules expected Apple to come to her home and pick it up!
"I just dropped my iPad on the ground and shattered two glass corners. What to do? does one call Apple to come and pick it up or do I take it?" the cooking and decorating queen initially asked her 2,856,532 Twitter followers.
Article continues below advertisement
Hours later it was, "I am still waiting for an apple rep to come pick up my IPad. No action."
Then she suggested Apple follow Amazon's idea of same day delivery and initiate "same day fixit!"
The folks at Apple were less than thrilled at Martha's insistence that she get different service than any other customer.
"i cannot believe that Apple Public Relations is mad at me for tweeting about my Ipad and how to get it fixed! steve jobs gave it to me!" Martha tweeted, with a little name dropping for good measure.
And she went on to insist that the glass on an iPad could and should be "unbreakable."
Martha finally admitted that she was at fault for the broken device. She'd dropped it from her car. But "to fix is time" she explained about her frustration.
Anyway, she had Google's 15th birthday to celebrate!
Martha Stewart Pulled Her Hair Out Over Ex-Husband, Says Pal