Exclusive
Banking On Freebies — Kate Gosselin Sold Kids' Clothes To Consignment Instead Of Donating Them, Claims Author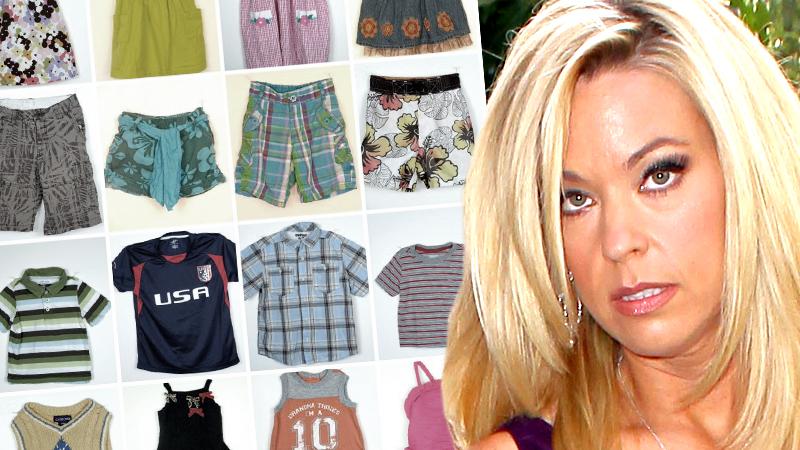 Kate Gosselin has no problem accepting freebies, but according to tell-all book author Robert Hoffman she doesn't reciprocate by giving back.
In 2009, at the height of her family's fame and fortune — a millionaire at the time, Hoffman claims — he witnessed Gosselin on several occasions take piles of the children's clothes to a consignment store where she would trade them in for money.
In Kate Gosselin: How She Fooled The World, Hoffman claims these were clothes that Gosselin, 39, didn't even pay for in the first place.
Article continues below advertisement
"I followed her, several times, to a consignment shop in Shillington, PA, where she carried in piles of children's clothing, to RESELL. Kate Gosselin, a millionaire, was selling clothes she didn't even pay for in the first place to those truly in need," Hoffman claimed in the explosive book.
"There is no disputing this because I watched her and photographed her doing this, and the paparazzi photographed her doing this. I also spoke to the consignment shop owner after Kate had left. This particular shop is 3 miles from my house, and I had been there many times before."
What's more, Hoffman says the route to the Pennsylvania consignment store forced Gosselin to drive right by a Goodwill Industries store where she could have donated the items and even received a tax write off — but instead chose to bank the extra cash.
"The worst part of this story is that, on the way to that consignment shop from her house, Kate had to drive by – in her $69,000 Toyota Land Cruiser – a giant Goodwill Industries distribution center and retail store, where she could have donated the items and gotten a tax write off in the process," the book states.
Article continues below advertisement
"Kate was a millionaire getting everything for free, and she was reselling her children's free clothing, rather than donating it to the needy."
As Radar previously reported, Gosselin called the re-release of Hoffman's book "fabricated and untrue," but it's likely she will not take legal action against him this time.
"Kate's not going to take any legal action at this time," a source close to the reality TV star told Radar.
"She feels the book is already 'out there' and thinks that 'even though a lot of things are fabricated and untrue,' she doesn't feel the need to drudge up old news and waste unnecessary money on attorney fees that could go to feeding her children's mouths."
Why do you think Kate sold the items instead of donating them? Sound off in the comments below…