Exclusive
A New Low — Kate Gosselin Calls Her Kids 'Disabled' In Letter She Allegedly Wrote To The State Begging For Free Full-Time Childcare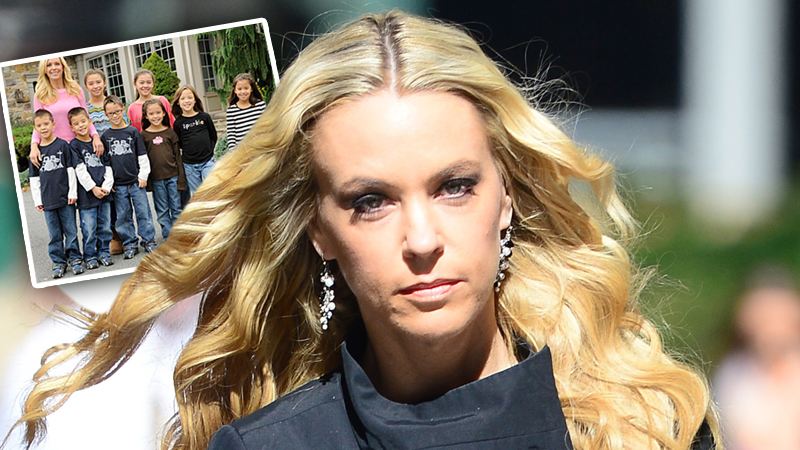 Kate Gosselin was so frazzled with her new sextuplets that the mother-of-eight resorted to calling her children "disabled" in an effort to obtain free full-time childcare from the State of Pennsylvania, RadarOnline.com is exclusively reporting.
According to a letter obtained by controversial author Robert Hoffman included in his tell-all book, allegedly written by Gosselin in 2005, the reality TV star complained she was unable to care alone for her eight children because they could not take care of themselves — and in a moment of ignorance referred to them as disabled.
Article continues below advertisement
"We have eight children four years old and under. Our six youngest are 11 months old. In a sense our children (our six 11 month olds) are disabled," the letter reads.
"They cannot feed themselves, transport themselves up and down stairs or at all, bathe themselves, get a drink when they are thirsty, go to the bathroom by themselves, put themselves to bed or dress themselves."
Gosselin pleads that the children are unsafe because they "do not know right from wrong" and could fall down the stairs or poke each other in the eyes.
Article continues below advertisement
"Any one person cannot safely care for and keep eight children safe from danger, 12 hours per day, 5 days per week!" Gosselin, 39, wrote.
She argues that the "community resources" they were given are not enough and unreliable.
"'Community Resources' — a list of college students or high school students available 'here and there' as their schedules allow, who when other things come up aren't afraid to cancel on us — thus leaving my children to wait for lunch or my 4 year olds home from preschool for lack of transportation," Gosselin wrote.
"Elderly ladies who cannot lift one 20 lbs. baby let alone 6 and who certainly cannot do stairs while carrying one or two babies! Baths are out of the question!"
The controversial reality TV star begged to keep nurse aide Angie Krall, who had been helping them for the last nine months claiming the search for someone new was too exhausting.
"Where will I find this person to walk in, take over for minimal pay as a home health aide, who we as parents trust, who our children trust and love and who will be able to on a whim do what 9 months (with our nurse) of history has built?" the letter states.
Article continues below advertisement
"Exactly my point! By the time May 30 rolls around, a new person, will just be scratching the surface of learning our daily routine and handling the many time management challenges! This is all too exhausting and unworth it for me and family!"
Krall would later reveal that the short-fused Gosselin fired 40 nurses and nurse's aides in the three months before she was hired, and gave an interview to Us Weekly in which she slammed Gosselin.
"She is even more combative with her family and employees. Krall reveals that Kate posted 'demeaning' signs in every room detailing rules, and fired one woman on the spot for washing her hands in the kitchen instead of the bathroom. 'Kate flipped,' says Krall. 'She thought it was cross-contamination,'" the magazine wrote in 2009.
Krall said Gosselin "thought they were owed stuff. The money factor was huge."
Article continues below advertisement
"I know that I risk stirring up an unwanted public and private 'frenzy' by commenting on this, but, if our children ever stumble upon that interview, I want to be able to point them to this statement so that they know that I publicly set the record 100% straight on this one, for their sake."
What do you think the eight Gosselin children will think when they read Hoffman's tell-all book? Sound off in the comments below . . .