Jon Gosselin Says His Kids Are Developmentally Behind, Damaged From Growing Up On TV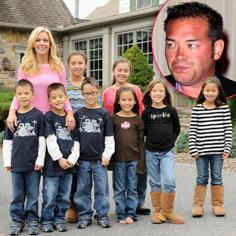 Former reality TV star Jon Gosselin opens up about the negative aspects of putting his family in the spotlight, and says his eight children have problems developmentally — attributing it to growing up on TV, and RadarOnline.com has all the details.
Kate Gosselin's ex filmed a segment with Oprah Winfrey's Where Are They Now? on OWN and told the talk show maven that Jon and Kate Plus 8 destroyed his marriage, his reputation, his career and his children.
Article continues below advertisement
"I saw my kids not growing up normally, like I grew up, and having community. Yes, they got to travel the world, and yes, they got these fabulous things, and yes, they have trust funds, and they're taken care of educationally. Great," he said of his twin daughters Cara and Mady, 13, and the sextuplets Hannah, Aaden, Collin, Alexis, Joel and Leah, 9.
"But developmentally, they have problems with their peers, and they have problems with talking to other people, and they have problems with wants and needs and manners and morals and what's right and what's wrong. I think more so than someone who grows up off TV."
Jon and Kate's marriage crumbled while the public watched, and the father of eight says he gained an unfair reputation — and never cheated on Kate.
"The most common misperception is that I cheated on my wife, that I left my family, that I'm a party boy," Jon said. "But my family knows the truth." Now 36-years-old, Jon has hit rock bottom, waiting tables at a pub in Pennsylvania and is so fiercely protective of his privacy that he pulled a gun on a sneaky paparazzo allegedly trespassing on his property in September.
Article continues below advertisement
As RadarOnline.com exclusively reported, Jon has a deal in place with a specific photographer in which they will split the profits equally, so when he pulled the gun to warn the photographer about trespassing on his property, he was actually trying to protect his deal.
"Jon cut a side deal with a paparazzo promising exclusive shots that they can sell and split the profit on," a source close to the situation told RadarOnline.com. "Jon basically said he won't allow anyone to take his photo without him getting a percentage."
Still desperate to make ends meet, Jon still wouldn't turn to the temptations of TV, telling Oprah, "It just became stressful on the kids and stressful on me. You're trying to keep your marriage together, and you're trying to keep your family ties together."