PHOTO SHOCKER! Did Kate Gosselin Spank Her Children With THIS Spoon?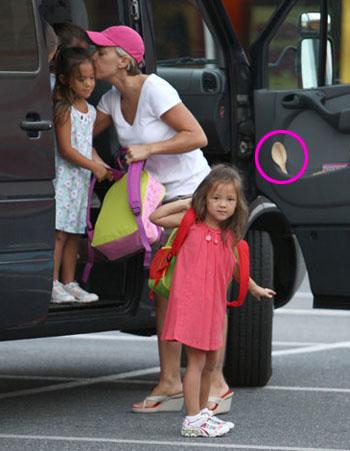 Looks like Kate Gosselin may have some explaining to do!
After a shocking new report claiming that the reality star beat her eight children with a wooden spoon, RadarOnline.com has recovered photos taken in October 2011, showing a large wooden spoon in the side pocket of her van door.
"She was beating 2-year-old babies in diapers," reporter Robert Hoffman, who claims that he found the mother of eight's secret journals that she used to help her write her books, Multiple Bles8ings and EightLittle Faces, told Star magazine.
Article continues below advertisement
According to Hoffman, the former Kate Plus 8 star kept detailed notes on her computer about using a wooden spoon, which she called "The Spanker," to hit her children, allegedly yanking them around by their hair and punishing them for transgressions as minor as trying to climb out of a crib or not adjusting to potty training quickly enough.
"She uses that Spanker on a daily basis for anything and everything. The spanking entries are endless," he alleges.
In the photos, Kate is dropping her brood off at the bus stop near their Pennsylvania home, and a wooden spoon can clearly be seen in the passenger side door of her massive mini van.
RELATED STORIES:
Kate Gosselin Causes Twitter Outrage With Picture Of Daughter Mady's Legs In Heels
Despite 'Haters', Kate Gosselin Walks Runway At New York Fashion Week
Smoking! Kate Gosselin Is Red Hot In Skin-Tight Dress Amid Rumors Of Reality Dating Show