Kate Gosselin Tell-All Book Author Calls Her A 'Bully,' Says 'Things Have Only Gotten Worse For The Poor Gosselin Children'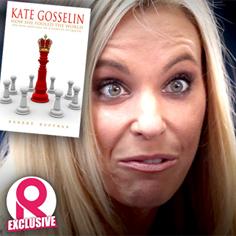 Just in time for the airing of Kate Gosselin's two-part TLC special, author Robert Hoffman has re-released his explosive tell-all book on the mother of eight and in an exclusive interview with RadarOnline.com, he reveals there are some new allegations in the book.
"I don't like bullies. I don't think anyone does. I don't think anyone wants to live in a country where the people with the most money who can afford the best lawyers should get to automatically control the narrative, whatever that may be," Hoffman told RadarOnline.com when asked why he chose to re-release the book.
Article continues below advertisement
"I believe people have a right to hear all sides of the story and not just the side that the people with the most money want to shove down their throats. People are smart enough to make their own decisions and make up their own minds based on the facts.
"I think it's time for all the cards to be put on the table and to let the chips fall where they may."
Gosselin, 39, previously sued Hoffman and her ex-husband, Jon — claiming he had a hand in the book — claiming he penned his self-published book about her using information obtained by Jon through hacking into her computer and stealing her identity, but later dropped the legal battle.
Gosselin adamantly denied all claims.
"I don't want to live with a 'what if' hanging over my head where children are concerned," Hoffman concluded.
Hoffman's book, Kate Gosselin: How She Fooled the World, The Rise and Fall of a Reality TV Queen, is now available for digital download on Amazon with a print edition coming soon.