She's Back To Her Old TV Tricks! Kate Gosselin Berates Her Daughter Mady On Camera For New TLC Special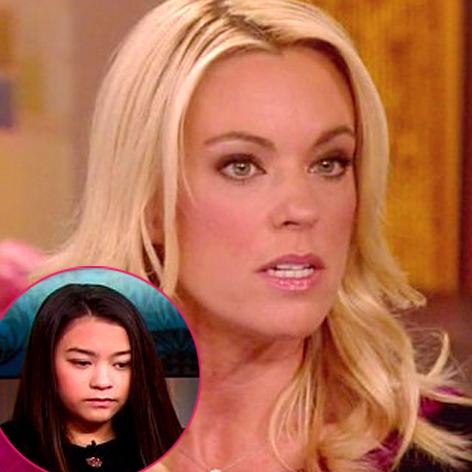 Controversial reality TV show mom Kate Gosselin and her brood of eight kids from Jon & Kate Plus 8 are on TLC again for a new summer special — and RadarOnline.com's first clip from the two-part show Kate Plus 8: Sextuplets Turn 10 proves she's up to her old tricks.
The mother famed for her anger and control freak ways goes off on her daughter Mady, 13, after Kate announces spring break activities for the entire family.
Article continues below advertisement
When Mady objects, Kate, 39, dismisses her and the teen stomps out of their living room, shouting, "I didn't do anything! You never trust me!"
Kate then orders her back in and says, "Interrupting me and saying, 'No, we're not,' is something! I will give you one chance, this moment, to apologize, change your attitude and come back and that's your last redemption."
After Mady yells she's sorry and rushes heavily back into the room, Kate comments, "Without stomping and shaking me when you walk by," then confiscates the teenager's cell phone.
"I got those girls cell phones and iPads so I could take them away," she tells the TLC cameras about twins Mady and Cara.
As RadarOnline.com has previously reported, viewers of the Today Show were appalled earlier this year when Kate became angry with her shy twins for clamming up during an interview.
Meanwhile, on the new TLC show, Kate, sporting long curly blonde hair and a suspiciously smooth forehead, sighs, "We've all been through a lot…the kids are getting older and smarter and giving me a run for my money.
"I'm getting older, tired-er, more worn out."
Kate's original family show, Jon & Kate Plus 8, ended badly after her ex-husband, Jon Gosselin, reportedly cheated on her. The couple's official breakup statement ran on the show in 2009 and it went on without Jon until 2011.
Viewers can catch Kate celebrate her sextuplets' 10th birthday during the two-part TLC special airing June 19 and 26 at 10/9c.