Exclusive
Revealed: What REALLY Happened Off Camera At 'TODAY', As 'Furious' Kate Gosselin 'Rolled Her Eyes' In Anger At Twins After Humiliating Interview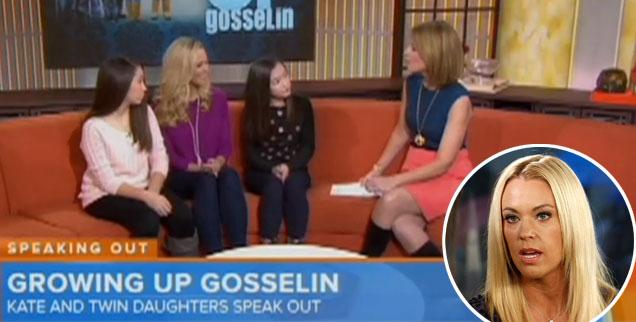 A furious Kate Gosselin made no secret of her displeasure at twin daughters Mady and Cara after the disastrous interview live on TODAY Thursday during which the pair sat virtually silent and refused to answer questions, a show insider has told RadarOnline.com.
When the reality television trio arrived at the NBC's New York studio, there was not a hint of any drama, the insider dished.
"Kate and the girls were very talkative, but the girls were definitely sleepy. Cara and Mady's manners were impeccable and they chatted with producers before the segment," the source said.
Article continues below advertisement
"But as soon as the girls got on the set, their mood immediately changed. It was obvious to anyone watching they simply froze on camera."
When the interview ended, off-camera, mom Kate, 38, asked Cara — who didn't say one word during the entire interview with Savannah Guthrie — what happened.
"She kept asking what happened and she simply shrugged her shoulders," the source said. "This seemed to make Kate even angrier and she rolled her eyes to onlookers nearby."
The bizarre interview couldn't come at a worse time for Kate: It occurred just a day after the children's father Jon claimed that his ex-wife exerts such rigid control over her brood, that they "can't breathe the wrong way without upsetting her!"
Thursday's appearance did little to dissuade such a notion, as the twin girls, 13, had to be prodded by their mother when host Guthrie asked them questions as innocuous as "How are you doing?"
Article continues below advertisement
When the girls had trouble answering, mama Kate jumped in with the zeal of a Hollywood publicist doing damage control.
"So this is their chance to talk, this is the most wordless I've heard them all morning — I don't want to speak for them but, Mady, go ahead"
"They're more aware of what is out there, the inaccuracies, things that are said by the general public, their father, whoever in general because their friends talk about it at school. So I sort of am forced to kind of inform them," Kate said. "And I think the most upset — we talk about it a lot and the most upset they are is because they get really frustrated that people assume certain things in our house and they always say, 'But that's not how it is, mommy. Why do they say that about us?'"
Said our show source: "We all genuinely felt for the girls. Kate is a tough cookie to please, it's obvious that she expects a lot from Mady and Cara."
After the cringeworthy appearance, Kate addressed her daughters' silence, writing, "Thanks to @TODAYshow for having Cara, Mady and me on the show today! 1st live interview can render even the gabbiest girls speechless :)