Exclusive
Explosive Tell-All Kate Gosselin Book Being Conveniently Re-Released Same Week As TLC Special -- 'It's Fictitious & Defamatory,' She Says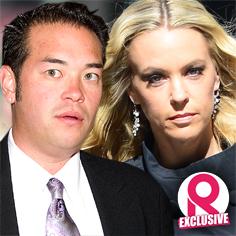 Article continues below advertisement
"INSIDE KATE GOSSELIN'S 'HOUSE OF HORRORS,'" the author's website touts.
"Conspiracy. Massive Coverup. Lawsuits and Legal Threats. Exploitation. Fraud. Abuse. Animal Cruelty. Lies. Read The Book that two of the most powerful law firms in the country have tried to stop from being published."
"Kate knew this might be coming. She feels if the book gets published again and stays published, it's still defamatory to have behind her name," a source close to the mother of eight told RadarOnline.com.
"It's fiction. A former tabloid reporter doesn't have first hand knowledge of anything. Only someone who lived in the house would have true knowledge and Robert Hoffman did not live at the Gosselin home."
Furthermore, the source claims Kate's ex-husband, Jon Gosselin, knew about the re-release because he's friends with Hoffman and tried to use it as a ploy for money.
"Jon wants alimony and he told Kate he would stop the book from being published if she gave him alimony. She of course refused," the source said.
Article continues below advertisement
"He does not pay child support for his eight kids and now he wants alimony after he signed his rights away years ago. Now Robert Hoffman has full control publicly for the book but Jon is splitting the profits 50/50 privately."
As RadarOnline.com exclusively reported in Jan., Jon gave up all rights in having a say whether or not his kids appear on TV in exchange for not having to pay child support, in a secret deal with Kate.
"As of now, Jon doesn't have much so he uses his kids publicly and pretends like he wants them off TV, but he just wants alimony," the source continued.
"Meanwhile, Kate and the kids are happy filming and being able to afford all the necessities of raising eight children; food, bills, clothes, education, athletics, etc."
When the book was originally released in 2012, Hoffman made vitriolic charges against the reality TV star, including allegations that she used a wooden spoon to spank her children and was cruel to the family pets.