Every Dog Has His Day: Man Who Imprisoned Mentally Ill Woman & Her Daughter — Threatening Her With Pit Bulls & Pythons — Gets 30 Years In Federal Prison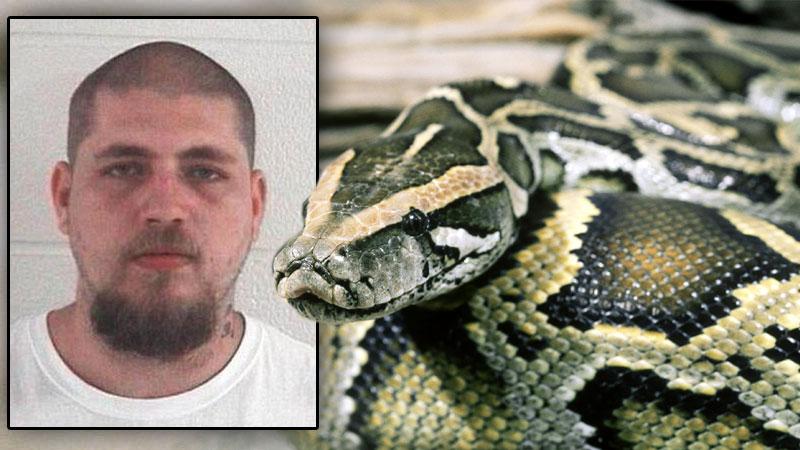 The Ashland, Ohio man convicted of holding a mentally disabled woman and her 5-year-old daughter against her will for two years — threatening her with a snake, stealing her disability money, saying he would hurt her young child, and imposing sex on her — received 30 years in federal prison from U.S. District Judge Benita Y. Pearson in a Cleveland courtroom Tuesday.
Jordie Callahan, 28, was convicted (along with girlfriend Jessica Hunt) of forced labor, conspiracy to illegally obtain prescription drugs and conspiracy to defraud the U.S. this past March.
Article continues below advertisement
The eerie nature and location of the crimes brought obvious comparisons to the atrocities committed by dead Cleveland kidnapper Ariel Castro.
According to prosecutors, Callahan and his co-conspirator kept the woman, Shannon Eckley, and her daughter in a damp basement, with no bathroom, that locked from the outside. Callahan, in addition to threatening harm to Eckley via his python and pit bulls, also told the woman he would kill her if she didn't comply with his demands.
He and Hunt also would injure Eckley, then force her to visit the emergency room, to procure pain pills for their drug habits, prosecutors said. They also made the woman and her daughter eat dog food, wear dog collars and crawl like canines.
The horrific crimes came to light when Eckley, who suffered brain injuries in a car accident, was caught stealing candy and told police she preferred to go to jail, as her captors had acted cruelly to her.
Article continues below advertisement
Cleveland-based FBI agent Stephen D. Anthony said that "hopefully, this well-deserved lengthy sentence will provide a sense of justice that will assist the victims in their ongoing healing process."
U.S. attorney for northern Ohio Steven Dettelbach said following the sentencing that Callahan, "through his cruelty, sought to deprive the victims in this case of their dignity and freedom.
"He failed in the former and the victim's strength ended up trumping his."
Hunt is scheduled for sentencing on Thursday. Two others accused of assisting the duo — Dezerah McGuire, 33, and Daniel Brown, 35 — both testified against the pair as a condition of plea deals they brokered with authorities.