Onlookers Watch Python Strangle Man To Death Near Luxury Hotel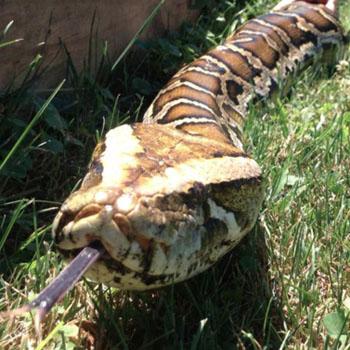 A crowd of people watched in horror as a 15-foot long snake killed a man right before their eyes at a popular vacation hotspot.
The incident took place at 3 a.m. Friday, as the python was spotted slithering across a road near the Bali Hyatt hotel on the Indonesian island, the AP reported.
Ambar Arianto Mulyo, a 59-year-old security guard at a nearby restaurant, tried to help capture the snake that had been seen in the area before.
Article continues below advertisement
But his heroic attempt turned into a holiday tragedy, as the deadly python wrapped itself around his body and strangled him after he had secured the reptile's head and tail, putting it on his shoulders.
"It happened so fast," said eyewitness Agung Bawa, an assistant security manager at the hotel, which has been closed for renovations. "We were sad because we could not do anything to help him."
Police arrived to find Mulyo dead, and the python missing.
According to Denpasar police Captain Gusti Ngurah Yudistira, the victim died of suffocation.