Drug-Smuggling Granny On Death Row In Bali 'Could Be Executed Within Weeks,' Can't Afford A Lawyer!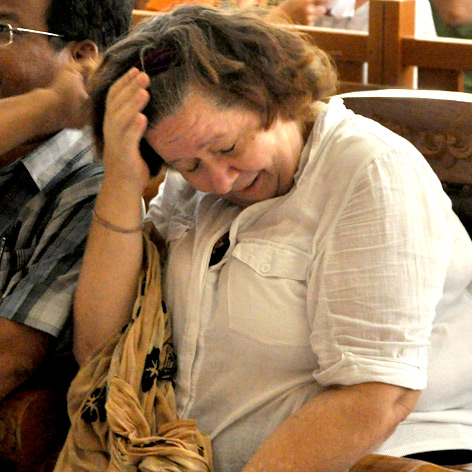 After being handed down a shocking death sentence last month for smuggling cocaine to Bali, a British grandmother expected to have years of appeals ahead of her before she ever risked facing a firing squad, could be executed within weeks, RadarOnline.com is reporting.
Lindsay June Sandiford, 56, from Gloucestershire, England, is being held at Kerobokan Jail after being arrested at the airport last May following 10.6 pounds of cocaine, worth $2.5 million, being discovered in the lining of her suitcase — however she maintains that she was forced to take the drugs into the country by a gang that was threatening to hurt her children.
Article continues below advertisement
Indonesia expressed this week its intention to resume executions for the first time since 2008, and Government officials have revealed that Sandiford's high-profile conviction is what led to the deadly decision, reported the UK's Independent.
Basrief Arief, who was sworn in as the country's Attorney General last November, expressed his desire to shorten both the appeals process and increase executions now that he has taken office, which is bad news for the British granny and the 12 other inmates currently on death row.
The deadline for Sandiford to lodge her appeal is February 12 but she is currently struggling to afford a lawyer after being turned down for legal support by the British Foreign Office.
"It is deeply disappointing that the Foreign Office chose to fight against helping Lindsay in the British courts, rather than fighting for her in Indonesia," said Harriet McCulloch, spokesperson for nonprofit human rights campaigners Reprieve.
Article continues below advertisement
"Lindsay has under two weeks in which to file an appeal against her death sentence -- which means dealing with complicated legal documents in Indonesian, a language she does not understand. She has no money for a lawyer, and time is running out."
While Sandiford got a much harsher sentence than the 15 years prosecutors requested, the man who arranged to meet her to pick up the mountain of drugs only got six years in prison for his part in the trafficking ring.
Julian Ponder, of Brighton, England, was found guilty on January 29 of possessing narcotics and faced a possible life sentence after 23 grams of cocaine were found in his villa when he was arrested.
"I think it's light enough," said his lawyer, Ary Sunardi, after hearing the sentence that was one year less than what the prosecution recommended.
"We will suggest that he accept the sentence."