Ariel Castro's Brutal Torture Of Michelle Knight: He Strung Her From Wires, Broke Her Puppy's Neck And Told Her He Wished He'd 'Gotten To That Little JonBenet Ramsey First'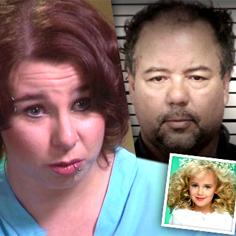 Michelle Knight's horrific torture at the hands of Ariel Castro was a decade long nightmare but the brave woman has revealed that her most frightening experience – the first few days of her painful assault - led to an even darker time of terror that stretched for years to come.
In her new book Finding Me the 33-year-old woman described how Castro strung her up by her arms from wires in the ceiling, raped her daily, tricked her into his house with the promise of a puppy that he eventually gave her, only to break its neck in front of her. And the monster even complained to his hostage that he wished he'd taken other little girls like Jon Benet Ramsey and Elizabeth Smart.
Article continues below advertisement
In an excerpt from the book published in People magazine, Knight details her first hours after being kidnaped, where Castro "strung her from a wire hung from two poles in the bedroom, returning two days later to brutally rape her. Afterward he dragged her down two flights of stairs."
Knight wrote of the despair she felt those first days.
"What happened over the next three hours is still hard for me to think about. He didn't just rape me the way he did upstairs. He murdered my heart. I was in so much shock and fear that all I could do was lie there like I was dead. In a way, I think part of you has to die in order to get through a thing like that," she recalled.
The brutality continued, with Castro raping her on a daily basis and psychologically torturing her as well, telling her that no one was looking for her after her disappearance, unlike Amanda Berry and Gina DeJesus.
He also spoke about his love of porn, hatred of African Americans and desire to have kidnapped other famous girls. "He told me 'I wish I had gotten to that little JonBenet Ramsey first.' Another time he made the same kind of comment about Elizabeth Smart, who was abducted just two months before I was. 'I know, I'm a sick man,' he said. 'I hate how I am.'"
Article continues below advertisement
When Castro initially lured Knight into his Cleveland house of horrors he lied that he had a puppy for her to give to her son. There was no puppy, but he eventually did give her one four months into her captivity.
"Michelle named him Lobo and doted on him – until Castro broke the dog because it wouldn't stop barking while he was raping her."
SLIDESHOW: 52 Crimes That Shocked The World
Knight recalled how she felt that she was the most abused in the house, beaten to miscarry five times after Castro impregnated her.
"I was the only one he physically hit, that I saw," she told People.
"I was the one being told I was ugly. He'd say ' You're a person with no meaning,' and I'd say 'You're a person with no meaning.'"
Knight, who has changed her name to Lily Rose Lee says that she is hopeful for the future. She says she'd even like to adopt children someday.
"I will adopted a beautiful young girl or boy that is having difficulties and needs a family. I will be the mother that they never had. I know how it feels not to have a family."