Michelle Knight Recalls More Ariel Castro Torture: He Barricaded Kidnapped Girls Into A Room When Visitors Came Over In Cleveland House Of Horrors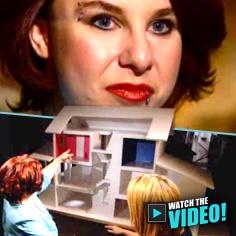 Michelle Knight has new lease on life since being rescued after a decade of torture at the hands of Ariel Castro but she recalled how her captor would lock her and the other women in a room when people came to visit their house of horrors.
Knight, now 33, has changed her name to Lily Rose Lee, and she told Savannah Guthrie how Castro would barricade them into an upstairs room in the Cleveland home.
She spoke on the TODAY Show Friday that Castor "Would take speakers, a couch, chairs and block anyone from getting up the stairs at all."
Article continues below advertisement
Along with Amanda Berry and Gina DeJesus, she showed the room where they were held captive on a model reconstruction of the home.
"There were days like he'll come in and he'll just do bad things in front of me, and I'll take her hand and I'll tell her everything's gonna be OK,'' Knight recalled.
"One day we'll get out. One day we'll be free. One day we won't be voiceless."
Visit NBCNews.com for breaking news, world news, and news about the economy
With her book coming out on May 6, Knight said she has a positive outlook on life.
"Sometimes in life, you have a dark past that makes you who you are, but it doesn't define who you are,'' Knight told Guthrie.
She said she kept a journal during her captivity writing hopeful notes to herself like, ""Vibrant butterfly, full of life, every time I see one it reminds me how precious life can truly be."
Knight said she sees herself now as a butterfly "that's able to express herself the way she wants now, and able to be free without control and no worries. I'm that butterfly. Freedom to fly."