Exclusive
Cleveland House Of Horrors Hero Pens Revealing Tell-All, Says He Helped Police Identify Ariel Castro's Vehicle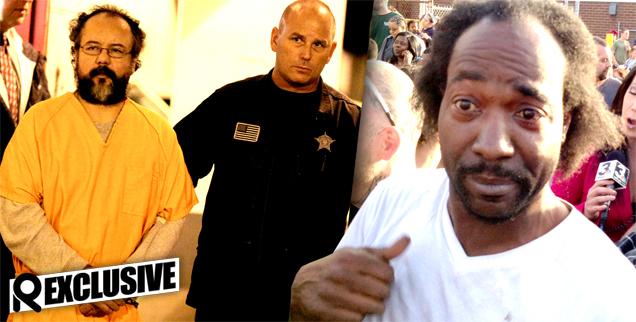 Article continues below advertisement
As Michelle Knight would later say on the "Dr. Phil" show, back inside the house she and Gina DeJesus heard a banging sound. They hid because they thought someone was trying to break in. They were right — those were my foot stomps they heard, trying to break in.
Two cops crawled in through the broken lower panel on the storm door. The second one then kicked the door open so more cops could follow. A few minutes later, Gina and Michelle emerged. Gina was wearing a bright blue sweater and pajama bottoms, and tennis shoes. Michelle was wrapped in a blanket, shaking. All three girls looked rather scrawny.
Meanwhile, the police continued to question Amanda. She told them Ariel had gone off to his mother's house.
"What kind of car does he have?" they asked.
Ariel had a mini–used car lot in his back yard. I looked over there and saw the Jeep Cherokee, the Toyota Tundra, the Harley Davidson, and the Yamaha 900 crotch rocket. I knew which car was missing. "He's in a blue Mazda Miata convertible," I told them.
Article continues below advertisement
An ambulance arrived amid all the chaos on the street, and the four girls were helped into the back.
At this point, the swelling crowd began to turn angry. See, one of the girls was Gina DeJesus, a Puerto Rican girl. While this mostly Puerto Rican crowd was joyful to see Amanda and Michelle be freed, it began to turn into a lynch mob when it saw that Gina was among the hostages. The mob was livid that a Puerto Rican dude would do this to a Puerto Rican girl. Had Ariel showed up at this point, the cops would have had one hell of a time keeping the crowd from shredding his fat ass.
Meanwhile, a few blocks away at the McDonald's I had patronized just a few minutes earlier, the cops swooped into the parking lot and surrounded the blue Miata, with the unsuspecting Ariel still inside along with his brother Onil.
I still hadn't yet put together all the pieces. I stood there on the street, talking to the police. They wanted to know every detail of everything I knew. The questioning went on and on. Now the news media trucks and cameras were arriving. The neighbors kept pouring out to see what was happening. Seymour Avenue had turned into Cleveland Mardi Gras.
Article continues below advertisement
"Do you know who you just found?" this dude Detective Cook asked me. "That's Amanda Berry. We've been looking for her and those other girls for 10 years."
Ten years? Unfreakin' believable! I'd lived there on Seymour for about a year and had not a flipping clue. Then the math added up in my head. Yeah, I had heard the name before. Amanda Berry, the girl who'd been kidnapped something like 10 years ago. The story was big when it broke, but it faded over the years. I thought by this time the girl probably was long dead. And she had been right next door?
Castro was arrested the same day the girls were discovered and eventually pled guilty to 937 criminal counts of rape, kidnapping, and aggravated murder as part of a plea bargain.
Castro was sentenced to life in prison without the chance of parole plus 1,000 years — but just one month into his sentence Castro hanged himself in his prison cell using the bedsheets.
Dead Giveaway is available at BarnesAndNoble.com and Amazon.com.