Exclusive
Silence Of The Siblings: Rob Kardashian Hasn't Spoken To Sisters Kim & Khloé Since Wedding Drama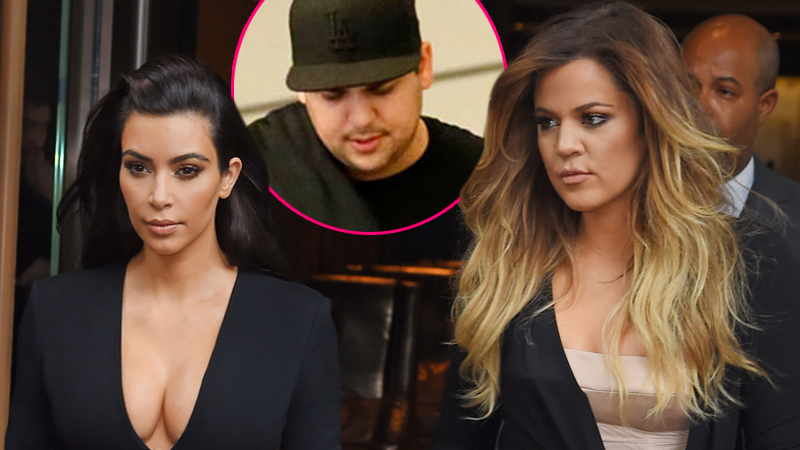 Rob Kardashian hasn't spoken to sisters Kim or Khloé since he abruptly left Kimye's wedding festivities without attending the ceremony last month, RadarOnline.com is exclusively reporting.
The sock mogul "has no reason to talk to Kim," a source told Radar, as "they haven't been on good terms for a very long time."
Kim "hasn't bothered to even attempt to talk to him since returning from her honeymoon, while Khloé has sent him text messages and left him several voice mails," a source told RadarOnline.com. "Rob hasn't returned any of Khloé's phone calls or texts. He feels completely estranged from his sisters and family. He really isn't in a good place."
Article continues below advertisement
Since returning from sister Kim's wedding​, which he chose not to attend, the reality star "has been holed up in his house, and hasn't been returning calls from concerned family members," an insider previously told us.
"Rob made the decision months ago that he didn't want to have a recurring storyline on the upcoming season of Keeping Up With The Kardashians, and drastically cut back on filming."
Radar broke the story: After Rob arrived in Paris for Kim's wedding, the siblings got into a heated argument in which the sex tape star accused her brother of leaking negative stories about her to the media.
Adding insult to injury, the source claims Kim also hurt Rob's feelings by bringing up his weight.
"Kim and Rob haven't been speaking to each other for months — she thinks he is lazy, and bringing down the family name because of his physical appearance" a source said. "After arriving in Paris, Rob and Kim got into a very heated argument because she thought he was just moping around the hotel.
"She encouraged him to go out and sight see, which he declined to do."
Article continues below advertisement
Upon returning to Los Angeles, Rob deleted all his old Twitter postings and started fresh.
He wished his sister Kourtney Kardashian's baby daddy Scott Disick a "happy birthday," calling him "brother," but not a single mention of the wedding.
Instead, he quoted from the Bible, writing "Blessed is the nation whose God is the LORD, Psalm: 33:12″ and "Lord Jesus, protect those who protect me – police, firefighters and those in the military."
Our family sources reveal that Rob's mother Kris Jenner is "extremely worried about" her son.
"She knows he isn't in a good place, and is encouraging her kids to continue to reach out to Rob."