'I Miss My Best Friend': Khloe Kardashian Laments Broken Relationship with Troubled Brother Rob As He Retweets Support From Fan Who Calls Him 'The Most Likable Member' Of The Famous Family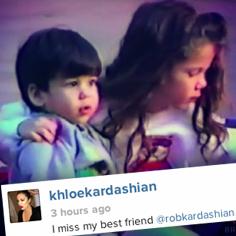 Rob Kardashian may have bitterly fought with sister Kim hours before her fairytale wedding — but at least one sister can still call him a friend.
Khloe, who once lived with Rob, 27, and her estranged husband Lamar Odom, 34, reached out to her troubled sock designer brother via Instagram on June 10.
Instead of reciprocating the warm sentiment, Rob, who fled Italy in tears moments before Kim's wedding and has been largely avoiding the limelight in recent months, has been busy retweeting support from fans— often at the expense of his famous family.
Article continues below advertisement
"I miss my best friend @robkardashian," Khloe, 29, posted above a photo of the siblings as adorable tots.
http://instagram.com/p/pEMBmiBRso/
"@robkardashian is the most down-to-earth and likeable member of the Kardashian klan," he retweeted from one follower. "Chin up, and f**k everyone who says otherwise."
"You're such an awesome, cute & generous brother!! Keep it up!!" Rob retweeted from another fan.
As RadarOnline.com exclusively reported, Rob has drastically cut back on filming for his family's hit reality show, Keeping Up With The Kardashians.
"Rob feels that the reality show has truly ruined his family, and that momager Kris Jenner is always on the look out for the next big deal for one of her daughters," a source told Radar. "His significant weight gain has only added to the stress in his life. He has been working out but has very bad eating habits. He just feels very alone."