Exclusive
Rob Kardashian — The Show Has Ruined My Family! Find Out Why He Wants Nothing To Do With 'KUWTK'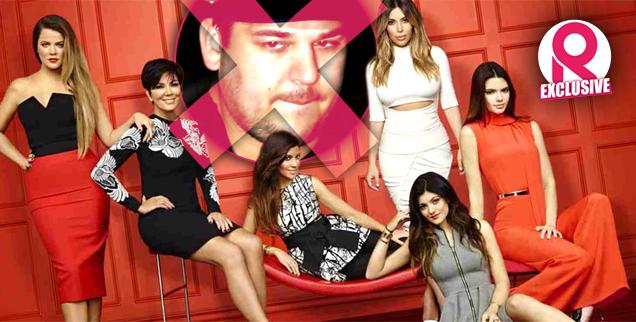 He's had enough.
Rob Kardashian no longer wants to be a part of Keeping Up With The Kardashians and has drastically cut back on filming, RadarOnline.com is exclusively reporting.
Since returning from sister Kim Kardashian's wedding, which Rob chose not to attend, the sock mogul "has been holed up in his house, and hasn't been returning calls from concerned family members. Rob made the decision months ago that he didn't want to have a recurring storyline on the upcoming season of Keeping Up With The Kardashians and drastically cut back on filming," a source told Radar.
Article continues below advertisement
"Rob feels that the reality show has truly ruined his family, and that momager Kris Jenner is always on the look out for the next big deal for one of her daughters. His significant weight gain has only added to the stress in his life. He has been working out but has very bad eating habits. He just feels very alone."
Upon returning to Los Angeles, Rob deleted all his old Twitter postings and started fresh.
He wished his sister Kourtney Kardashian's baby daddy Scott Disick a "happy birthday," calling him "brother," but not a single mention of the wedding.
Instead, he quoted from the Bible, writing "Blessed is the nation whose God is the LORD, Psalm: 33:12″ and "Lord Jesus, protect those who protect me – police, firefighters and those in the military."
Radar broke the story: After Rob arrived in Paris for Kim's wedding, the siblings got into a heated argument in which the sex tape star accused her brother of leaking negative stories about her to the media.
Article continues below advertisement
Adding insult to injury, the source claims Kim also hurt Rob's feelings by bringing up his weight.
"Kim and Rob haven't been speaking to each other for months…she thinks he is lazy, and bringing down the family name because of his physical appearance. After arriving in Paris, Rob and Kim got into a very heated argument because she thought he was just moping around the hotel. She encouraged him to go out and sight see, which he declined to do," the source previously told Radar.
"This made her extremely angry, and they exchanged words. During the course of the argument, Rob was accused by Kim of leaking negative stories about her to the press. That was the final straw for Rob, because that is something he would never do."
With sister Khloé Kardashian filming out of state for Kourtney & Khloé Take The Hamptons, "Rob feels more isolated than ever. Everyone in his family is off doing their own thing, but no one seems that concerned with Rob's well-being," the insider added.