Straight From The 'Momager's' Mouth! Kris Jenner Keeps Up With Her Kids Rob, Kendall & Khloé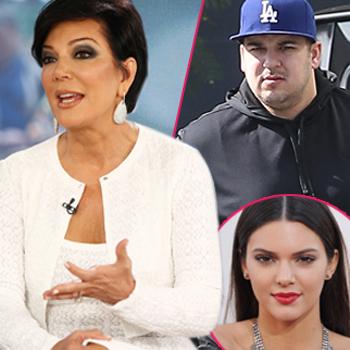 Kris Jenner, busy with an onslaught of media appearances promoting the upcoming season of Keeping Up with the Kardashians, lent a few insider insights about three of her children — surging Kendall Jenner, troubled Rob Kardashian and romantically-rebounding Khloé — during various interviews on Thursday.
The 58-year-old was unabashed in her pride for daughter Kendall, defending the 18-year-old's recent topless spread for Interview magazine in a chat with The Huffington Post.
Article continues below advertisement
"She's a model and that's really her profession," the gorgeous grandma explained of her second-youngest daughter's skin-baring pictorial. "Doesn't she look great? Some people are like, 'She poses topless!' She's a model — that's her profession — it comes with the territory."
Jenner wasn't afraid to do a bit of name dropping about the teen's quick rise up the fashion totem pole.
"She's just come off of a great fashion week here in New York where she modeled for Marc Jacobs and went to Paris and sat with Anna Wintour at the Top Shop show.
"She's got such a good heart, and she's such a good kid and she's really so happy in her own skin," Jenner said, adding that Kendall has a "perfect body" for the gig.
On the topic of bodies, the "Momager" also conceded that her 27-year-old son Rob — who's gotten publicity for his noticeable weight gain, as well as abrupt exit from sister Kim Kardashian's wedding last month — is working on some issues at this time, but that his family is squarely in his corner through thick and thin.
Article continues below advertisement
"Everyone goes through stuff," the reality TV maven said, "and we get through each other's adversity one year at a time." (Insiders this week told Star magazine that Kris hasn't been quite as supportive as her words on Thursday would indicate, with one source saying that "Rob is spiraling out of control, and it's all his mother's fault … she treats Rob like dirt, and he says she's a monster.")
Jenner played somewhat coy when commenting on daughter Khloe's rumored romance with rapper French Montana, who she dubbed "a great guy.
"They're really good friends," Jenner said. "Khloé is enjoying her life — she's been working on herself and putting her life back together" since her divorce from Lamar Odom late last year.
Keeping Up with the Kardashians is back for an all-new season on Sunday, airing on E! at 9/8c.