Ramona Singer's Legal Letter To Love Rat Hubby's Mistress Threatens Jail: Stop Your 'Lewd, Lascivious . . . Messages . . . Your Misconduct May Qualify As A Crime'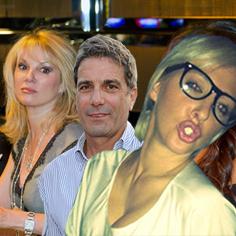 Article continues below advertisement
"My clients advise that you have been contacting them directly with unsolicited lewd, lascivious and salacious messages and commentary about both your and their personal lives, which have been continuing unabatedly despite my clients' repeated protestations for you to stop," Ramona's attorney Alan J. Bennett wrote to personal trainer Dexter, 32, which tells her in no uncertain terms to stop bothering the Singers!
The legal eagle called Dexter's actions harassment and ended the letter by warning her, "Your misconduct may qualify as a crime, which if established may subject you to prosecution and jail."
Singer, 57, filed for divorce from Mario, 60, in January after his cheating allegations surfaced, but soon had a change of heart and took him back, even though Dexter had allegedly penned a letter to Ramona about her explosive affair with the reality TV hubby. In it, Dexter reportedly gave the housewife an ultimatum — either you leave Mario or I will!