Jailhouse Interview: Drug Dealer Peter Shue Claims Ex-Girlfriend Madonna Set Him Up, Introduced Him To Informant -- ''She Told Me She Would Help Me!'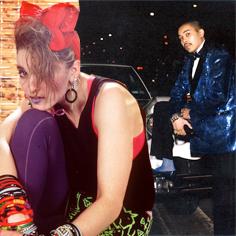 A scorned ex-boyfriend is coming back to haunt Madonna.
Peter Shue, 55, who has been behind bars for 20 years on drug charges, claims the superstar set him up all those years ago and tells The National ENQUIRER that he has been furious with her for as long as he's been in jail.
"Madonna could have easily left me alone, but she set me up!" Shue told The ENQUIRER from the Fort Dix Federal Penitentiary in his first interview since being incarcerated in 1995.
Article continues below advertisement
Shue was found guilty of drug conspiracy, and blames the "Material Girl" singer for allegedly introducing him to the informant whose testimony would ultimately land him in the penitentiary where he remains today. Shue claims he met Madonna in New York City back in the summer of 1994. He claims she promised to help him make it big in the music industry.
"She always told me she would help me," Shue told The ENQUIRER.
The jailbird also said that the "Vogue" singer begged to have a baby with him, but he turned her down because he already had a significant other.
"Madonna wanted to have a baby with me, but I didn't want to have a baby with her. I had a girl at the time," Shue said.
Shue's girlfriend at the time forced him to end it with Madonna once she found out about his relationship with the pop star. Shue said he was supposed to be in her music video for "Secret," and was even going to be paid $100,000, but had to pull out when his lady friend got upset.
Article continues below advertisement
"But when my girl found out about her, I had to quit the video," Shue said.
Despite his heavy partying ways back then, Shue told The ENQUIRER that he never saw Madonna take any drugs.
"I think she just got high before she saw me," he said.
But Shue believes that Madonna was upset with him for bailing on her, so she ratted him out to the informant. At his trial, federal informant Arlyne Brickman testified that Shue had tried to buy 13 kilos of cocaine from her.
Brickman claimed that she met Madonna after the pop star became interested in filming the informant's memoir, Mob Girl: A Woman's Life in the Underworld. Brickman also claimed that Madonna asked her to find out if Shue was dealing drugs, and when he admitted that he was, Brickman contacted the DEA.
But when asked if he's still mad at the singer, he told The ENQUIRER that at one point he wanted to "do something" to the singer, but has since had a change of heart.
"I don't hold no grudges."