Madonna & Boytoy Headed For A Split? He's Getting Close To Hot Blonde Dancer... As She Cozies Up To Ex Sean Penn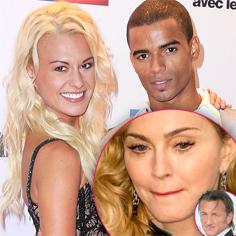 They said it wouldn't last. And it looks like it won't! Madonna and her French boy toy of nearly three years, Brahim Zaibat, have been separated for weeks while he cozies up to a hot blonde, younger version of his cougar girlfriend in France. Madonna, meanwhile, has been spending lots of time with her ex, Sean Penn.
Earlier this fall, Zaibat signed on to appear in the French version of Dancing with the Stars, Danse Avec les Stars. Paired with sizzling pro Katrina Patchett, Zaibat has barely left her side in recent weeks, and the two have posed for dozens of cutesy, intimate shots on Twitter:
Article continues below advertisement
After practicing with Patchett for weeks, a glum Zaibat was spotted briefly with Madonna in NYC on October 20, before heading back to France to focus on the show.
In the meantime, Madonna decided to reunite with her ex-husband, Penn, for a trip to Haiti just before Thanksgiving. Her son with Guy Ritchie, Rocco, posted happy Instagram photos with Penn from the trip.
Penn and Madonna had reconnected at a charity event in September, where they posed happily together for the cameras.
And though rumors have swirled that Zaibat, 28, left Madonna, 55, for Patchett, 26, one of Zaibat's co-stars on the show, Maxime Dereymez, told French media, "It's false."
Zaibat and Patchett have yet to comment.
But a picture seemed to be worth a thousand words when Zaibat was snapped looking irritated and exhausted during a trip to the Manhattan Kabbalah Center with Madonna on December 1. Later that afternoon, he grinned in a photo with Patchett, who accompanied him on the trip.
Do you think Zaibat and Patchett are truly just friends or should Madonna be jealous of her much-younger rival? Let us know in the comments!