Exclusive
The Ex Factor! Sean Penn Panting Hot For Madonna All Over Again!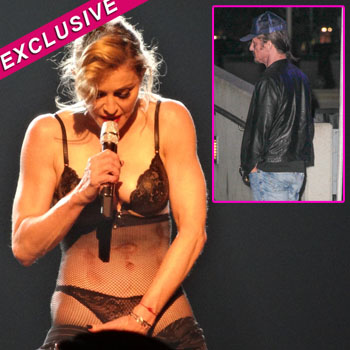 Thursday night was October 11, 2012, but it felt like 1985 all over again for Sean Penn!
The Oscar winner sat front and center at his ex-wife Madonna's Staples Center concert and sources tell RadarOnline.com exclusively that the look of love (or lust!) was in his eyes.
"He was practically panting," an eyewitness tells Radaronline.com exclusively. "Every time she thrusted or bent over, he was like 'Oh, man! I can't take this! She is too hot!'"
Article continues below advertisement
"Just like old times," joked Tom Hanks' wife, Rita Wilson, who attended the show with Sean and friends. "You're not kidding," Sean replied!
The Material Girl managed to get her ex husband all hot and bothered despite the fact that her performance was far more G-rated than her notorious Blonde Ambition tour.
The Like a Virgin singer kept it clean(er) as she employed her 12 year-old son, Rocco, to be one of her back up dancers.
But Madonna has to be Madonna, and the concert definitely featured some racy moments.
"At one point she stared Sean dead in the face, smiled, unzipped her pants, and mooned the crowd, but it was really like she was mooning Sean! He laughed and clutched his chest like he was going to pass out. She was wearing a black lacey thong, and her butt looked perfect! So smooth and tight….like a 20 year old's!"
Article continues below advertisement
Though she succeeded in enticing her ex, Madonna's moon message was political as well as sexual. On the small of her back she had the name Malala printed in black, in honor of a 14-year-old Pakistani girl who was shot earlier this week by the Taliban for attending school.
After the show, Penn was spotted back stage unapologetically "gushing" over his ex.
"Sean was like a teenage boy meeting his idol," an eyewitness says. "It was amusing, and kind of cute."
Madonna: 'We Have A Black Muslim In The White House … Support The Man'
Madonna's Mystery Claim: She And Rival Lady Gaga Will Be On Stage Together!